Vehicle Profile: 2021 Porsche 718 Cayman T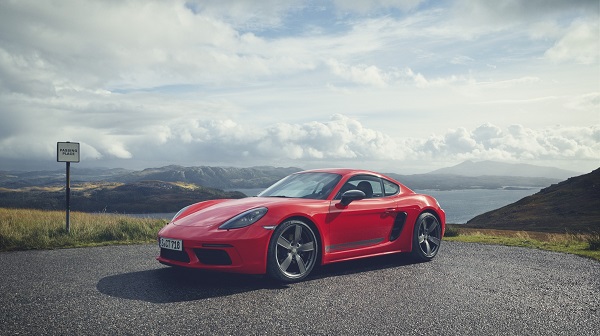 Many people dream of owning a Porsche, but with some models fetching as much as a quarter of a million dollars, the dream can be a difficult one to realize. One option is to turn to used cars, but Porsche cars often appreciate in value rather than the other way around. Alternatively, there's the 2021 Porsche 718 Cayman T. A new model introduced in 2020, the Cayman T is not quite the most affordable new Porsche you can buy, but it's close. More importantly, it combines many of the car's most attractive optional features, giving you a greater starter package.
Under the hood
Under the hood of the 2021 Porsche 718 Cayman T, you'll find the same engine shared by most of the 718 lineup: a turbocharged, 2.0-liter boxer four-cylinder rated at 300 horsepower and 280 lb-ft of torque. Like the base model, the Cayman T comes with a standard six-speed manual transmission, though the dual-clutch PDK automatic is so good that even the most die-hard enthusiasts may find it difficult to justify sticking to the stick shift.
More importantly, the Cayman T adds a variety of standard performance features not found on the base model. That includes Porsche Active Suspension Management with adaptive dampers and a 20-millimeter lower ride height; a mechanical limited-slip differential; active drivetrain mounts; 20-inch wheels; and the Sport Chrono Package that adds sportier driving modes and a cool, analog stopwatch on top of the dashboard.
Performance and handling
The 2021 Porsche 718 Cayman T is a pure sports car designed for driving enjoyment above all else. Accelerating from 0-60 mph in less than five seconds, it's respectfully quick in a straight line — but the 718 Cayman T is all about the corners and making its driver feel like a hero.
Thanks to its mid-engine configuration, lightweight design, stiff chassis, and next-level suspension system, the 718 Cayman T is as nimble and supple as cars come. It's supremely balanced, giving you responsive steering feedback whether you're dancing through a 90-degree turn or powering out of a hairpin. This car makes it impossible for the driver to get bored. Combined with nicely bolstered seats and a decent amount of storage cubbies, the 718 Cayman T proves to be an extremely worthwhile daily driver.
Features and tech
Inside the cabin, you won't find a lot in the 2021 Porsche 718 Cayman T that isn't already offered in the base model, though that's no criticism of the car. Standard features include dual-zone automatic climate control, heated front seats, nice leather trim, an eight-speaker sound system, Apple CarPlay
®
smartphone integration, and a built-in Wi-Fi hotspot. One visual enhancement over the base model comes in the form of "718" stitching in the headrests. The Porsche Communication Management system runs on a crisp, high-resolution 7-inch display with responsive inputs and an intuitive interface.
The 2021 Porsche 718 Cayman T is one of the most affordable new Porsche cars you can buy, with enough upgrades over the base Cayman model to stand out as a great deal. The German brand is notorious for its expensive options packages, making the Cayman T even more notable for its outstanding value. For the price, the car's combination of luxury and agility is unmatched.
This article is presented by Zimbrick European.