Vehicle Details: 2019 Lexus LC Performance
The Lexus LC is a grand touring coupe that's part supercar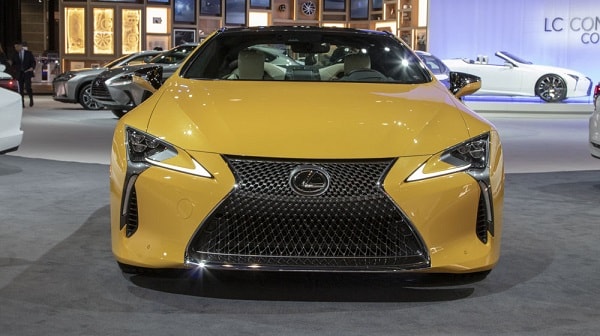 When it was introduced in 2018, the LC 500 represented Lexus's first shot in eight years at a luxurious yet sporty grand touring coupe. It aims to take on its better-known German rivals, and while it was convincing right out of the gates, it's already getting a few nice performance updates as it heads into 2019.
Engines and transmissions
The 2019 Lexus LC is offered with a naturally-aspirated 5.0-liter V8 or a 3.5-liter V6 hybrid system. The V8-powered LC 500 makes 471 horsepower and 398 lb-ft of torque, sending power to the rear wheels via a 10-speed Direct-Shift automatic. Refined for 2019, this slick transmission can change gears in 0.12 seconds — about half the time it takes for the average person to blink — and picks the ideal gear while accelerating and cornering based on acceleration, vehicle speed and even your driving habits. The LC 500 can accelerate from 0-60 mph in about 4.4 seconds, while the hybrid LC 500h, which makes 354 net horsepower, is only about 0.2 seconds slower. However, it is significantly more efficient thanks to its electric motor and continuously variable transmission.
High performance engineering
A lot of effort went into ensuring the 2019 Lexus LC delivers tremendously precise and direct handling. Using the same in-house carbon fiber loom that spawned the LFA supercar, Lexus engineers designed and built the LC to be as lightweight and stiff as possible, ultimately developing the most rigid Lexus chassis yet. The weight distribution is also near-perfect thanks to clever positioning of the engine and wheels, all of which contributes to its exceptional handling. Braking performance is top notch as well, courtesy of massive monoblock aluminum six-piston front calipers with two-piece brake rotors and large, high-friction coefficient brake pads. While at the wheel, you get some level of control over the performance with Drive Mode Select, which lets you put the car in Sport S or Sport S+ mode for more throttle response and enhanced damping by the next-gen Adaptive Variable Suspension system.
Performance Package
If you plan on going on a lot of track days, you should probably consider ticking the box next to the Performance Package on the 2019 Lexus LC's options sheet. It adds a carbon fiber roof, lightweight forged aluminum wheels, a Torsen
®
limited-slip differential and Alcantara
®
-trimmed sport seats with weight-way power support, the better to keep you in place during spirited driving. It also comes with Active Rear Steering and Variable Gear-Ratio Steering for enhanced handling, a speed activated rear wing for better stability at high speeds, and carbon fiber door scuff plates — because why not?
The 2019 Lexus LC is what you get when you combine a screaming, naturally-aspirated 5.0-liter V8 with the chassis engineering know-how made possible by the LFA supercar: an exquisite grand touring sports coupe with a Japanese badge and the performance to outdo the Germans.
This article is presented by Lexus of Las Vegas.