DROP THE TOP IN THE NEW 2020 MINI COOPER CONVERTIBLE
Sun's out, fun's out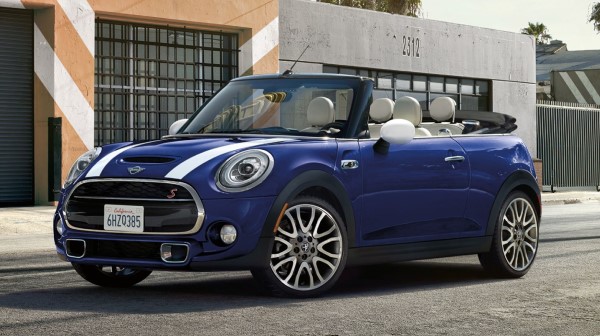 What says fun more than a convertible? A MINI Cooper Convertible. Our 60-year-plus reputation for putting the joy in driving is earned by looking for ways to make every trip out in a MINI feel like an experience. With the new 2020 MINI Cooper Convertible, you've got a spring- and summer-ready ride that's always up for a trip to the countryside or the coast but feels just as thrilling when you're heading down to the grocery store.
If you want infinite headroom, you've got it with the 2020 MINI Cooper Convertible. The electrically powered soft top opens and closes in just 18 seconds at speeds up to 18 mph, letting you adapt to the weather quickly. With the help of the MINI Rain Warner app, you can stay on top of what's ahead with notifications that tell you when a storm is on the horizon. And for those days where the elements can't seem to agree on one state, the MINI Cooper Convertible features a handy sunroof mode that lets you open the top part of the way when the sun peeks out from behind the rainclouds.
Whatever the weather does, your MINI Cooper Convertible delivers the legendary go-kart handling that's made us the unofficial automotive brand of fun since 1959. Every time you get behind the wheel, you're promised deft driving dynamics that will help lift your spirits and put you in the right frame of mind for a summer adventure. With available ALL4 all-wheel drive, you can bank on superior control and confidence for those days where nature decides to rain on your parade, and available Active Driving Assistant helps keep you safer in inclement weather.
The 2020 MINI Cooper Convertible is an ideal choice if you have a sunny disposition and want to show it off. Its fun-loving, iconic styling is an easy conversation starter — especially if you find yourself among other MINI enthusiasts — and bright color options like Caribbean Aqua and Solaris Orange will remind you of beachside sunsets all year round. With available premium Chesterfield Leather seating and unique interior surfaces and color lines, you'll always feel like you're on vacation inside the MINI Cooper Convertible.
It doesn't matter if you're top down in the summer or top up in the winter — driving the 2020 MINI Cooper Convertible puts a smile on your face year-round. But you'll doubly appreciate having your MINI Cooper Convertible ready to ride when the sun invites you out to play.
This article is presented by Cincinnati MINI.