Exploring the Inspiration Behind the Volvo C40 Recharge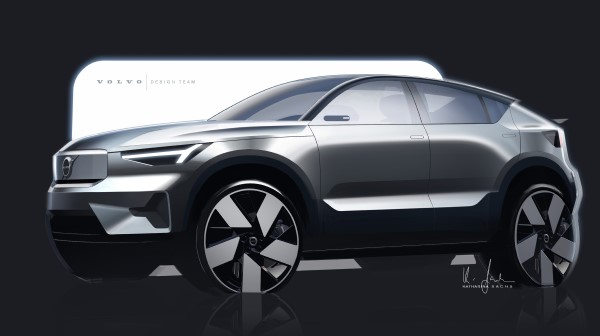 Volvo C40 Recharge is making history in a plethora of ways. It boasts a design unlike any other seen on the Volvo lineup, it's the first member of a new segment, and it's the brand's first model that was designed from the ground-up to be fully electric. Here's what else this exciting new EV brings to the table.
Electrifying aesthetics
The C40 Recharge's inspired look began life as an off-the-cuff sketch by designer Yury Zamkavenka. Unlike many sketches, Zamkavenka's concept "hit the ground running," says Volvo head of exterior design T. Jon Mayer. "That doesn't happen very frequently. When it does, it's always some of the more characterful ideas that flourish, because it's such a pure statement from that first sketch," he added.
It stands out from the crowd with a bold seating position and a sleek, streamlined silhouette. Mayer is particularly fond of how the model looks from the rear seven-eighths angle, which shows off how it balances a coupe-like profile with bold, sturdy, SUV-like qualities — including big wheels.
"These combinations give it a totally different expression, while still carrying on our DNA," Mayer explained.
Robin Page, head of design at Volvo Cars, also considers the C40 Recharge's design to share DNA with the XC40 Recharge. That said, Page acknowledges that the C40 Recharge pushes the envelope even further, with an aerodynamic profile and a more aggressive expression. For instance, much like other members of the Volvo lineup, it boasts signature Thor's Hammer headlights, but also sports pixel LEDs that can each switch on or off to give you the best possible lighting for your driving conditions.
"It's a really attractive product for people who are looking for the easy-to-live-with aspects of an SUV with more of a modern statement," Page concluded.
Interior design with purpose
The C40 Recharge doesn't compromise on comfort and practicality. It boasts a clean, minimalistic interior with plenty of organization features and a layout that puts everything you need within reach. But its interior is more than convenient — it's beautiful, too. You can let plenty of sunshine into the cabin with the panoramic glass roof. While it was designed to let light in during Sweden's dark and gray winters, it's perfect for American summer road trips and quiet nights beneath the stars.
And on top of that, the Volvo C40 Recharge does more than suit your lifestyle — it's designed to be easy on the environment, too. Senior design manager Rekha Meena explains that technological advancements have given interior designers more freedom. So instead of relying on conventional options like leather, the C40 Recharge offers innovative eco-friendly materials. The C40 Recharge's trim panels and carpet are both crafted from recycled plastic, and it offers the brand's first leather-free upholstery options. You can choose between naturally renewable wool, micro-tech fabric, and soft suede textiles made from recycled materials.
When the Volvo C40 Recharge arrives in early 2022, it'll be sold online, accompanied by the handy Care package to give you even more peace of mind on the road. Contact us on our website or stop by our dealership for the latest news on this innovative EV.
This article is presented by Stadel Volvo.