Healthy Recipes for Pet Treats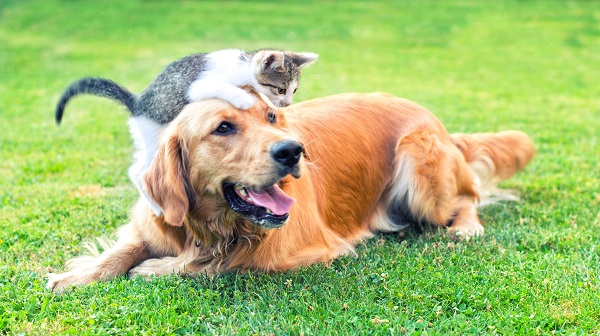 You love giving your pet special snacks, and your furry friend loves receiving them. But not all store-bought pet treats are healthy for them — and the ones that are can be expensive. Save some money and improve your cat or dog's health by making your own pet treats following these recipes.
Dog biscuits
No pet snack list would be complete without a homebrewed version of this doggie pantry staple. Caesar's Way, the website of dog behaviorist Caesar Millan, shares how you can make your own dog biscuits in your oven.
Dissolve beef bouillon granules in 1/2 cup of hot water (or heat beef stock) and stir in a raw egg, 2 1/2 cups of whole wheat flour and 1 teaspoon of salt. This forms a dough, which you'll knead into a ball and then roll out into a 1/2 inch-thick layer. Use a cookie cutter to create shapes, and place the pieces on a greased cookie sheet. Bake at 350 degrees for 30 minutes, letting the treats cool before letting Fido devour them.
When making the dough, you can mix in a variety of flavor enhancers based on your dog's preferences and diet. Some possibilities are bacon, oats, liver powder or shredded cheese.
Frozen banana popsicles
Dogs love cold ice cream on a hot day, but you shouldn't give them the same ice cream that you eat. Make a healthy frozen dessert for your pooch by following this recipe from Stephanie Eckelkamp of Good Housekeeping. Blend 4 cups of plain yogurt, a large banana and 4 tablespoons of peanut butter in a blender. Half-fill a bunch of small paper cups with the mixture and shove one organic dog biscuit in each cup as its "popsicle stick." Place the cups on an oil-sprayed baking sheet, and let them harden in the freezer for the next 2-3 hours. When you give one to your dog, make sure it softens a bit first so he doesn't get hurt.
Salmon cat treats
Cats love homemade snacks too, so you can replace those bags of rock-hard, fish-shaped biscuits with these DIY treats from Becky Hardin of The Cookie Rookie. Place 10 ounces of undrained, finely-chopped canned salmon; 1 raw egg; and 2 cups of whole wheat flour into blender, mixing the contents thoroughly. Take the dough that forms and roll it out into a 1/4-inch-thick layer. Use a tiny cookie cutter to form fish-shaped (or other animal) pieces, which you'll bake in the oven on a parchment-lined cookie sheet at 350 degrees for 20 minutes. When the pieces are crunchy, you can store them in an airtight container for another week or two. The real salmon and egg in the fish bites will delight your feline friend and keep them coming back for more.
There's only one drawback to making your own pet treats: Once your pet discovers the wonder of homemade snacks, they'll never want to go back to factory-made junk!
This article is presented by %%dealer_name%%.