Picnic Tips From Top Chefs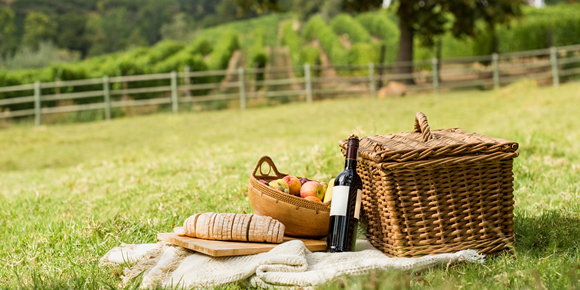 Summer is upon us, so it's a good time to remember Lexus drivers enjoy
special treatment at leading hotels
around the country. And because one of summer's great joys is a well-appointed picnic outing, we've enlisted some lead chefs at Lexus partner hotels to throw some picnic-getaway inspiration your way—must-have menu items for any good picnic basket, as well as superb picnic locales at or near their respective resorts (hint: they want you to visit).
JIM LEIKEN, EXECUTIVE CHEF AT BARDESSONO'S LUCY RESTAURANT & BAR
Yountville, California
Picnic basket must-have:
"Always pack really good bread! My personal favorite is the pain levain batard from The Model Bakery here in the Napa area. It has a great crust and a moist interior that makes it perfect for our delicious local cheeses and charcuterie, as well as jams and preserves made from Bardessono's garden fruits. It's also great simply toasted with butter and sea salt."
Best local picnic spot:
"I'm a father of 7-year-old twins, and we spend many afternoons at Yountville Park, at the very north end of town. It is a beautifully maintained triangle of lush green grass with a great playground at one end and picnic tables and grills under the redwood trees. They host great local events like live music performances and movie nights as well."
Your Lexus driver reward at Bardessono:
A $100 dining credit at Bardessono's Lucy Restaurant & Bar.
LAURENT PILLARD, EXECUTIVE CHEF AT ST. REGIS ASPEN RESORT
Aspen, Colorado
Picnic basket must-have:
"An out-of-the-ordinary sandwich with local ingredients. My personal favorite is a ciabatta with bison, beef bacon, pickled Rainier cherries, arugula, and fresh horseradish créme fraiche. These are all locally sourced from the Aspen area, and the lean bison and not-too-fatty beef bacon combine nicely with the acidity of Rainier cherries."
Best local picnic spot:
"It's hard to beat Maroon Bells. These iconic peaks, a quick drive from Aspen, make for a gorgeous picnic backdrop with Maroon Lake between them and the mountains behind them. Also, for a walking-distance spot from the resort, there's beautiful St. Regis Koch Park."
Your Lexus driver reward at St. Regis Aspen Resort:
A $100 dining credit and 20 percent off your stay.
BERNARD IBARRA, V.P. OF CULINARY EXPERIENCES & EXECUTIVE CHEF AT TERRANEA RESORT
Rancho Palos Verdes, Calif.
Picnic basket must-have:
"Olive tapenade, especially the olive tapenade from the Palos Verdes Peninsula. It tells the story of Terranea—harvesting, curing, and pressing olives from the Palos Verdes Peninsula. It's the ideal picnic condiment or spread."
Best local picnic spot:
"At Terranea, there's this perfectly placed picnic table on our Discovery Trail lookout area, between Nelson's restaurant and our Casitas accommodations. It overlooks the beautiful Pacific coastline and the Palos Verdes Lighthouse."
Your Lexus driver reward at Terranea Resort:
A $100 resort credit, complimentary valet parking, and a round of golf for two while staying at Terranea.
SARAH STEFAN, EXECUTIVE CHEF AT BLACKBERRY FARM
Great Smoky Mountains, Tenn.
Picnic basket must-have:
"My must-have picnic items—and what I take to all parties as well—are all from Blackberry Farm. Our Apple & Onion Jam, sheep's milk Brebis cheese, and crackers are the best combination. It's also a crowd favorite for guests"
Best local picnic spot:
"A superb place at Blackberry Farm to relax with a picnic is in our sprawling garden, right under the persimmon trees. They provide enough shade to protect you from the sun, and you can hear the birds and bees. Even the sprinkler sounds are soothing."
Your Lexus driver reward at Blackberry Farm:
Lexus drivers receive a $100 resort credit.
ANTHONY COLE, EXECUTIVE CHEF AT CHATHAM BARS INN
Cape Cod, Mass.
Picnic basket must-have:
"Definitely a lobster roll. Why? When you're living on or visiting Cape Cod, surrounded by the ocean, it's a staple, yet special, item. At Chatham Bars Inn, we work directly with local fisherman to make our own incredible lobster rolls for guests."
Best local picnic spot:
"My favorite spot would be the nearby Monomoy National Wildlife Refuge outer beach. Why? It's accessible only by boat, you can find plenty of places where you have the beach to yourself, plus there's all kinds of wildlife to see."
Your Lexus driver reward at Chatham Bars Inn:
An upgrade upon arrival, daily continental breakfast for two, a $100 resort credit (one per booking), and 15 percent off chartered boat excursions.
By Brian Gill