5 Dessert Destinations in the Tri-State Area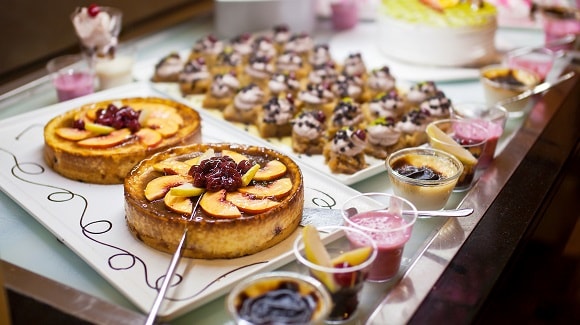 If you're in the mood for sugar, the tri-state area offers a dazzling variety of delectable desserts. From creative creations in trendy New York ice cream parlors to sweet country classics passed down through generations of Amish bakers, you can quell your cravings at these five dessert destinations.
The Big Gay Ice Cream Shop (New York)
Hailed as New York City's ice cream powerhouse by The Village Voice, you won't want to miss the chance to visit the
Big Gay Ice Cream
shop. Each flavor is packed with creativity — try the Rocky Roadhouse™, which blends creamy milk chocolate ice cream with dark chocolate chunks, almonds, mini marshmallows and swirls of hazelnut fudge, or the Fluffernutter, with peanut butter ice cream, mini marshmallows and praline peanuts. You can also try out more than a dozen creative milkshakes, including adventurous flavors like Ginger-Curry and Horchata.
Blue Duck Bakery (New York)
When you visit the
Blue Duck Bakery
, you'll experience all the warmth and charm of a small village bakery. This bakery and cafe offers sweets like Danishes, cannoli, turnovers, cheesecake, brownies, tarts, pies, cupcakes and cookies alongside artisan bread, fresh salads and scratch-made soups. If you're feeling thirsty, Blue Duck offers a selection of drinks including cappuccino, espresso, gourmet hot chocolate, lattes and teas. You can find Blue Duck Bakery locations in Greenport, Riverhead and Southold.
IT'SUGAR (New Jersey)
IT'SUGAR
is a sweet sensation in Atlantic City. You can pick up all of your childhood favorites or check out new novelties, like candy inspired by Stranger Things. There's even a selection of oversized treats — like an 8-foot-long gummy python and a giant 5-pound gummy bear. It's not all child's play, however — adults might enjoy the Beary Buzzed™ alcohol-infused gummy bears. With a dizzying variety of flavors like Piña Colada, Mimosa, Strawberry Daiquiri, Margarita and Cosmopolitan, you'll want to take home the whole collection.
Drop & Fry (Connecticut)
Looking for a hot twist on a cool dessert? Try
Drop & Fry's
fried ice cream in Stamford. Choose between six flavors and 20 fruit and candy toppings to customize your dessert. If you want something unforgettably decadent, pick from specialty creations like Oh No Cookie Dough — which is cookie dough ice cream with hot fudge, fried in a pound cake shell, and topped with powdered sugar, whipped cream, more cookie dough and drizzled in hot fudge. If you're hungry for more, you can try the shop's other fried goodies, like churro bites and s'mores bites.
Bird-in-Hand Bake Shop (Pennsylvania)
For a taste of homemade, fresh-baked goodness, visit the
Bird-in-Hand Bake Shop
in Lancaster County, Pennsylvania. You won't want to miss its selection of traditional Amish goodies, like its Shoofly pie, which has been voted the area's best for 10 years in a row. With a selection of sweets ranging from Whoopie Pies and fresh soft pretzels to old-fashioned candy and locally-made ice cream, the Bird-in-Hand Bake Shop has something for every visitor.
These are just a few of the coolest shops in the tri-state area. From familiar favorites to wacky novelties, you'll find it all at these dessert destinations.
This article is presented by East Hills Chrysler Jeep Dodge Ram.