Vehicle Preview: 2020 Mercedes-AMG® CLA 45
Your first look at this exclusive vehicle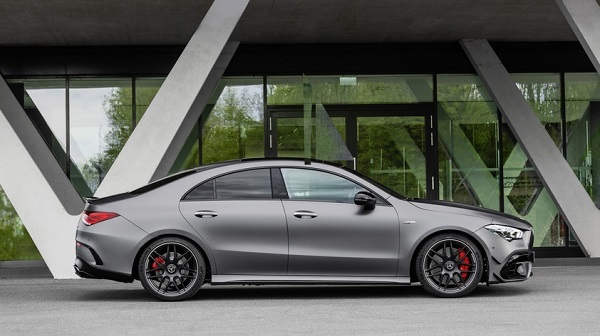 Like the legendary phoenix, the 2020 Mercedes-AMG
®
CLA 45 has returned, more powerful and resplendent than before. This new model boasts two groundbreaking engine options, a breathtaking exterior and a luxurious cabin. Here's what to expect from the 2020 Mercedes-AMG
®
CLA 45.
Mercedes muscle
Under the hood, the 2020 Mercedes-AMG
®
CLA 45 offers two engines. It comes standard with the M139 turbocharged 2.0-liter I-4, which is the most powerful four-cylinder dynamo in the world. It delivers 382 horsepower and 354 lb-ft of torque. There's also a stronger variant that pumps out 416 horsepower. The new turbo-four is paired with a seven-speed automatic transmission. Better yet, the 2020 model is faster than its predecessor — it's slashed its 0-to-60 time from 4.1 seconds in the 2019 model to somewhere around 3.9 to 4.0 seconds.
A striking exterior
Although few details are known about the 2020 Mercedes-AMG
®
CLA 45, it sports a front end resembling a smaller Mercedes-AMG
®
GT. It proudly wears its performance-car capabilities, emphasized by its stunning Panamericana grille, bracketed by massive air intakes. The sleek and sculpted model has wider wheels and stands an inch lower than the standard CLA. With its new stance and redesigned menacing headlamps, the vehicle boasts a streamlined, predatory feel. From behind, you'll notice its spoiler incorporated into the design of its trunk lid, along with its distinctive quad exhaust outlets, complete with a diffuser between the pipes.
Interior luxury
Since the 2019 Mercedes-AMG
®
CLA 45 was renowned for its stunning, luxurious interior, it's expected that the 2020 model will have minimal changes. Inside, it's expected to have stylish x-crossed air vents, bolstered sport seats, premium leather surfaces and a wealth of available color options that let you express your style. It also boasts a futuristic-looking floating infotainment system. To add a more personal touch to your vehicle's interior design, you'll likely be able to choose from interior packages that adorn the cabin with carbon fiber, full leather, or Dinamica
®
sustainable ultra-soft microfiber fabric.
If you're excited for this powerful new model, you won't have to wait long to get behind the wheel. The 2020 Mercedes-AMG
®
CLA 45 model is expected to go on sale by the end of 2019.
This article is presented by Autohaus on Edens.