The Iconic 2020 BMW 4 Series
An undeniable premium car for those who wear their hearts on their sleeve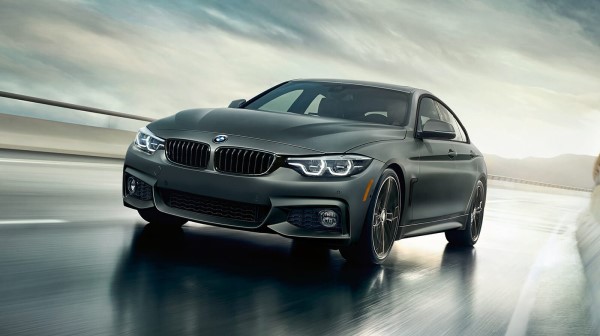 Excitement comes in all shapes and sizes, but in the world of BMW, it's perhaps best summed up with one number: 4. The unforgettable 2020 BMW 4 Series is a premium car for drivers who do not permit tedium in anything they do. Available in three unique styles and with a range of technologies and features, the 4 Series is a maverick spirit that stirs your soul and piques your hunger for life.
BMW builds anticipation with an undeniable look that teases what the 4 Series can do when put to the test. Whether it's the 4 Series Coupe, Gran Coupe or Convertible, the purest elements of BMW excellence are there. Every 4 Series sits low and long like a predator poised to pounce upon its prey. Its iconic kidney grille is the centerpiece of an iconic face, which feeds into a muscular body that's tastefully athletic and exceptionally aerodynamic.
For as beautiful as the 2020 BMW 4 Series is under the lights of your carport or in the fading colors of sunset, it's even more magnificent in motion. A clear and intentional expression of the Ultimate Driving Machine
®
concept, the new 4 Series balances speed and efficiency like a well-trained pugilist. Its near-perfect 50/50 weight distribution, brilliantly engineered suspension and steering and muscular engine offerings make it as light and fast as any undisputed world champion.
A hallmark of BMW is its talent for offering comfortable, modern interiors that put driver and passenger at ease. With the 2020 BMW 4 Series, tasteful design and premium materials create an inspired cabin that promotes its sporty yet stylish nature. Tying the aesthetic together are modern technologies like the BMW Navigation system and its 8.8-inch high-resolution display and optional 10.25-inch Dynamic Digital Instrument Cluster, which leave no doubt that you are in control of your entire experience.
Few cars can claim to be as comprehensively incredible as the BMW 4 Series. Its reputation for infusing pleasure in the everyday is well-earned, and it never fails to impress wherever it can be seen, heard and felt. As much an experience as a premium car, the 2020 4 Series is one of the finest expressions of what it means to be the Ultimate Driving Machine
®
.
This article is presented by The BMW Store.