Spooky Board Games to Play on Halloween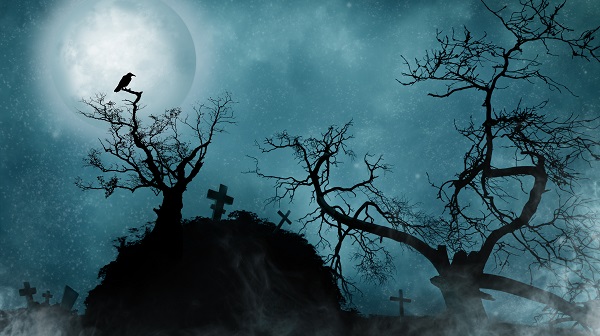 Halloween may be a little different this year, but that doesn't mean you still can't get your frights in for the season. Plenty of board games offer spooky delights in the form of mysterious circumstances and thrilling challenges. Gather the family and consider playing any one of these board games for an entertaining night in.
Mysterium
Solving a murder takes teamwork, and that's exactly what is expected when you play Mysterium, a cooperative game for 2-7 players aged 10 and up. Over the course of approximately 45 minutes, you and other players will work together to determine who killed a servant in his employer's mansion 30 years ago. But here's the catch: One of you will be assuming the role of the murdered servant's ghost, providing clues to the other players, who are psychic investigators trying to get to the bottom of the classic mystery. Clues are given only through illustrated cards during specific stages of the game, and the majority of the players must eventually choose a suspect, murder weapon and location in order to win, therefore setting the ghost free from his tortured afterlife at Warwick Manor.
Zombie Dice
While there's technically no board included or needed, Zombie Dice is a great, fast-paced ghoulish game to set the Halloween mood. It consists of a cup with 13 custom dice inside, each adorned with specific symbols representing brains (green), runners (yellow) and shotguns (red). The object of the game is to acquire 13 brains by a series of dice rolls. However, if you roll three shotgun dice during your turn, you lose all brains that have been accrued. The yellow runner dice gives you the option of rolling more dice; without it, your turn is over. If you've got a runner, it's up to you to decide whether or not it's worth it to keep rolling and risk getting a shotgun blast or if you'd rather bank the brains you have and pass the dice to the next player.
Escape the Room: Secret of Dr. Gravely's Retreat
If you've missed the rush of an escape room and want to recreate that feeling at home, opt for Escape the Room: Secret of Dr. Gravely's Retreat. The beautifully designed box contains everything you'll need for a high-stakes game of escaping from an evil doctor's lab. The setting is 1913 and you've won a free stay at Foxcrest Retreat, an all-inclusive spa where other unsuspecting winners have joined you. You soon find out that the retreat is not what it seems and you must use the clues in sealed envelopes to solve puzzles and make it out alive and well. While the game suggests three or more players aged 13 and up, it's definitely possible to complete the mystery alone. Be sure to put on a creepy playlist, like those found on Spotify by searching "escape room," to set the scene.
13 Dead End Drive
Clue meets Mouse Trap in this classic board game from the '90s. 13 Dead End Drive — best for 3-4 players aged 9 and up — follows the story of Aunt Agatha, whose recent death has sparked a feud among relatives, former employees and past lovers about the large inheritance she left behind. Each player is dealt a certain number of Character cards that they control secretly throughout the game. As you roll the dice, you can move any of the pawns in order to either get your portrait in the main Picture Frame (signifying the recipient of the inheritance) or by sending other characters to their deaths on the trap spaces, which contain actual moving parts. You can win the game through one of three scenarios: you are the last character alive, you escape the mansion when your character's portrait is displayed inside or have your character's portrait displayed by the time the Detective arrives to read the will.
From working together to solve a mystery to collecting brains and escaping death, there are endless opportunities for fun at home this Halloween. Put your best decorations up, turn on the "Monster Mash" and get playing!
This article is presented by VanDevere Auto Group.