Car Care: Buffing and Waxing
Buffing and waxing tips to clean, beautify and protect your car
Aside from wrapping your car in bubble wrap or hiding it under a tarp, there's just no getting around the necessary maintenance of a thorough car wash, buff and wax. If you want your car to shine like a diamond on the road and protect its sleek finish from weather damage, incorporate the following buffing and waxing tips into your regular car care regimen.
Wash
The best surface to start with is a clean surface. This means you need to thoroughly wash your car's exterior, including the undercarriage where salt, dirt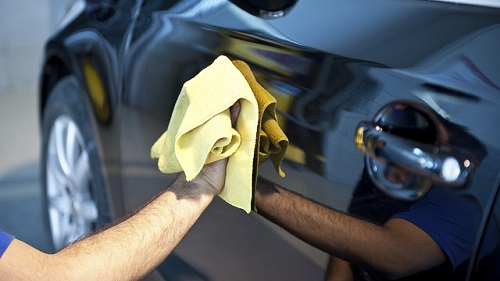 and grime like to hide and corrode important components of your vehicle's systems. Don't let your clean car air dry — make sure to dry it completely with a towel, as leftover water can interfere with waxing (the next step in protecting your car's exterior), according to NAPA
®
writer Benjamin Hunting.
Wax
Once you've removed corrosion-causing elements from your car such as salt, sand and bird excrements and your car looks as good as new, it's time to protect your efforts. Car wax will help create a barrier from the elements you worked so hard to remove as well as add an attractive sheen to your car's exterior, a perfect blend of beauty and function. "It is also quite effective as a rust prevention method, since water beads off the surface instead of sitting on the body panel," according to Your Mechanic writer Jason Unrau.
Choosing a wax can be a bit daunting as the shelves are filled with varying options. Before you grab the most expensive or least expensive from the automotive supply aisle, decide if you want to use a natural or a synthetic wax. If you're driving down the natural route, look for products with a carnauba base. These products will reveal a wet-looking sheen, but according to Hunting, carnauba is more challenging to apply then polymer-based waxes, which offer a longer-lasting, yet not as vibrant, sheen. If you want the best of both worlds — attractive shine and long-lasting application — Hunting notes that carnauba-polymer blends are available on the market. Once you've applied the wax in circular motions via a pad or terry cloth, wipe away the dried excess with another cloth.
Buff
To help ensure the wax is working up to its full potential, it's time for more elbow grease. "Using a clean terry cloth, wipe the paint gently in a circular motion until you start to get the deep reflective look you are going for," advises Huntington.
There's no reason why your car can't stay as shiny and bright as it was the day you bought it. With regular, thorough washings, waxing and buffing, your car will look great now and for years down the road.
This article is presented by Jennings Chevrolet in Glenview, IL.