Head South to Athens, Georgia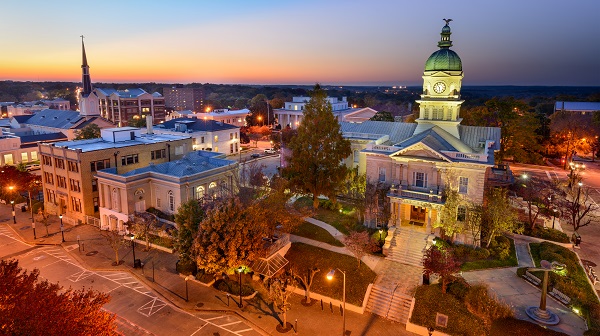 If you're ready to relax in the lap of Southern hospitality, consider visiting Athens, Georgia on your next vacation. Featured on Georgia's Antebellum Trail, this historic city has plenty to explore and taste during your stay.
What to do
Athens is one of the few historic cities in the state to escape the Civil War and General Sherman's campaign relatively unscathed, earning it a spot on
Georgia's Antebellum Trail
. Many of the city's best-maintained historical buildings are on the University of Georgia's North Campus. To get a closer look at the old homes, stores, academic buildings and other features, you can take a
Classic City Tour
from the Athens Welcome Center.
When you're done learning about the city of Athens and its long history, consider heading to the
State Botanical Garden of Georgia
. Maintained by the University of Georgia, the facility is home to a children's garden, greenhouses, international garden and other showcases of native and foreign plants. If you want to stretch your legs, the property also has nature areas with trails. When you plan ahead, you can sign up for programs and tours to enhance your experience.
If the weather turns rainy or cold while you're in Athens, enjoy the great indoors in one of Athens' museums. The city is home to the
Georgia Museum of Art
and the
Georgia Museum of Natural History
. To sneak a peek inside a historic home and see a traveling art exhibition, consider a trip to the
Lyndon House Arts Center
on Hoyt Street.
Where to eat
Trekking all over town will leave you hungry, and Athens has plenty of restaurants ready to please your palate. For a more casual option with beverages for the adults in your group, consider the
Trappeze Pub
on Hull Street. Thrillist reports that it has several brews from around Georgia, as well as choice selections from other states. The menu skews toward well-prepared bar food and burgers.
For a true brewery experience, head over to
Creature Comforts Brewing Co
. They have several year-round varieties alongside seasonal options, and the tasting room serves non-alcoholic sodas and juices. This brewery doesn't have a kitchen, but you're more than welcome to bring food to eat in their outdoor area. Keep an eye on their their social media pages and visit the brewery when food trucks are on-site.
Since you're visiting the South, it's a good idea to try some of the region's famous cuisine. Chef Jacob Blackwell's
South Kitchen and Bar
serves favorites like fried green tomatoes, collard greens, grits and Brunswick stew that more than fits the bill. If you follow vegan, vegetarian or gluten-free diets, the menu has dishes catered to your needs.
Writers from Culture Trip report that the best biscuits in town come from
Mama's Boy
and its two locations. Open for breakfast and lunch, the restaurant serves other goodies like a pimento cheese burger and pulled pork and potato hash.
When you want to try a different style of Southern food,
Last Resort Grill
takes Southern staples and fuses it with Southwestern flavors. For instance, the chefs use tiger shrimp from the coast of Georgia and other southern states to make a shrimp quesadilla with chipotle remoulade and charred corn salsa. They also caramelize sea scallops to serve over grits with sweet ancho chili and parsley verde.
Athens, Georgia is a great place to experience both the history of the South and its new culture. Visit the Peach State soon to see it for yourself.
This article is presented by Zimbrick European.