4 Fun Video Games to Help You Get Fit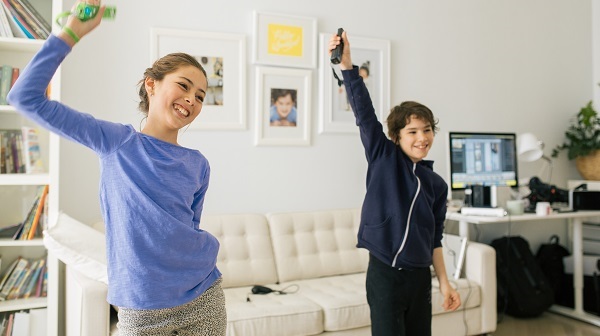 You don't need a gym membership, an exercise room in your basement or even a sunny day to exercise at home. All you need is a video game console. Playing video games don't necessarily correlate to stagnating on the couch for hours at a time; you can find an assortment of new videos games that turn your console gaming experience into an opportunity for exercise — such as these titles currently available for purchase to play on your current-generation system.
Just Dance®
The Just Dance
®
video game series has been a hit with active video gamers ever since it debuted on the Wii a decade ago, giving players the chance to dance to their favorite new and classic songs using motion-based control. The eleventh entry in this franchise, Just Dance
®
2020, is currently available for the Nintendo Switch™, PlayStation
®
4, Xbox One and Google Stadia. Players can unlock over 40 popular songs to dance along to, mimicking choreographed moves that coincide with the rhythm of recent hits by Billie Eilish, Ed Sheeran, Panic! at the Disco and other artists. It's a great way to work up a sweat while you shake your groove thing.
Zumba®
Over the past decade, an abundance of Zumba
®
games came to home consoles that capitalized on the workout craze sweeping the nation. And it's plain to see why these dance fitness workouts have become a popular way of exercising at home: With an official Zumba
®
video game, you didn't need to attend classes — it's like having your own instructor in your living room!
Zumba
®
Burn It Up!, the most recent entry in the licensed series, is currently available for the Nintendo Switch™. Customize your workout with preferred dance styles and trainers, and exercise on the go using the Switch's portable design.
Ring Fit Adventure™
Another game exclusively for the Nintendo Switch™ is Ring Fit Adventure™. Combining a variety of sweat-inducing exercise moves with an engaging RPG story, Ring Fit Adventure™ uses a unique ring-shaped apparatus called the Ring-Con™ and a leg strap to hold your Switch™ controllers and monitor your movements as you use exercise-based attacks and movements to blaze your way through fantastical realms to defeat mystical monsters. Ring Fit Adventure™ has received rave reactions from users and reviewers, praising the game for its creativity and effectiveness in empowering players to properly exercise — and enjoy doing so!
Sprint Vector
VR games add an extra layer of physical engagement, making them excellent tools for immersive, calorie-burning exercises. One of the most popular fitness games on the PlayStation
®
4, Sprint Vector uses the PlayStation
®
VR headset to enter you into a colorful, competitive racing game in which you have to actually pump your arms and jog in place to compete. Sprint through a dozen stunning intergalactic tracks populated by ancient alien ruins or futuristic industrial metropolises as you compete against the game's characters or up to eight friends in multiplayer mode. It's an exciting alternative to jogging on a boring treadmill.
While you're spending more time at home, invest in a video game that will keep you active and fit instead of lounging on the couch. You'll be too busy having fun to realize how in shape you're getting.
This article is presented by Jack Demmer Lincoln.