Vehicle Preview: 2020 Mercedes-AMG® GLC 43
The AMG® GLC 43 is more powerful, more luxurious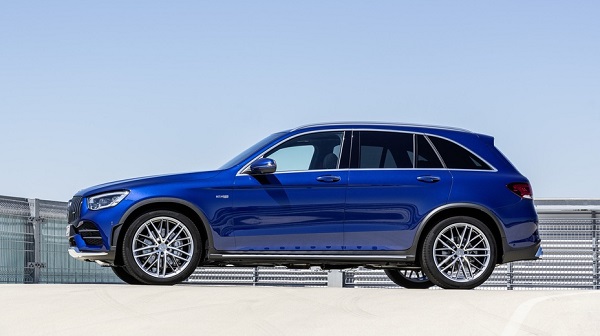 With performance enhancements derived straight from the company's incredibly successful Formula One program, the 2020 Mercedes-AMG
®
GLC 43 is more than just your typical high-performance, luxury compact SUV. It not only has motorsport DNA but also sophisticated style and preeminent comfort, like a beautifully ornate pastry wrapped around an awfully compelling and tasty center.
Design
If you were to rate a vehicle's sheer craftsmanship and level of detail on a 1-10 scale, the 2020 Mercedes-AMG
®
GLC 43 would likely make you consider extending the limit to 11. It's as though every feature of the car has, upon closer inspection, another sub-feature for you to feast upon. The multi-spoke 20-inch wheels have Titanium Silver inlays. The brushed aluminum running boards have grip-enhancing rubber studs. The anodized roof rails have a subtle silver-shadow finish so that even if you're not using them, they still add style to the 2020 AMG
®
GLC 43. Inside, the carbon fiber trim, thick flat-bottom steering wheel and AMG
®
-exclusive gauges take the center stage, though you'd be hard-pressed to miss the elegant red topstitching. Nappa leather upholstery with diamond-pattern stitching, contrast seat and door inserts is next on the menu with a side of Natural Grain Black Ash or Brown Linden wood trim. Your pick.
Performance
The 2020 Mercedes-AMG
®
GLC 43 features a 3.0-liter V6 biturbo engine rated at 385 horsepower and 384 lb-ft of torque, up 23 hp from the 2019 model. It, like virtually every other part of the powertrain, has been AMG
®
-enhanced for added power, precision and responsiveness. For instance, the 4MATIC
®
all-wheel-drive system uses torque vectoring technology to eradicate understeer and the AMG SPEEDSHIFT
®
TCT 9-speed transmission is as impossibly smooth as it is quick. The AMG
®
Performance Braking System will threaten to make your lunch reappear when you use it to its full extent, and the AMG
®
Sport Exhaust System not only produces a satisfying growl but also enhances cold-start performance and long-term durability. The 2020 AMG
®
GLC 43 SUV can accelerate from 0-60 mph in 4.7 seconds, which is, frankly, preposterously fast for a vehicle weighing over 4,100 pounds.
Features
Though performance is the 2020 Mercedes-AMG
®
GLC 43's main course, there's lots to enjoy even if you were never to take it to the track. Heated and ventilated power front seats with memory, LED ambient lighting, dual-zone automatic climate control, hands-free interfaces and a high-quality surround sound system by Burmester
®
are just some of the features that help enhance convenience and comfort. The MBUX 10.25-inch touch-screen infotainment system is particularly advanced and comes with available in-car Wi-Fi, COMAND
®
3D navigation and Apple CarPlay
®
and Android Auto™ smartphone compatibility. You'll also love the Touchpad controller, which can respond to various finger motions, and the head-up display that comes with an AMG
®
-exclusive screen with bar-graph tachometer.
The 2020 Mercedes-AMG
®
GLC 43 will go on sale in the U.S. near the end of 2019. Though it has yet to be priced, there's no doubt it will offer excellent value for families seeking a premium vehicle that combines SUV utility and comfort with the high-end performance that only AMG
®
can provide.
This article is presented by Autohaus on Edens.