Health Benefits of Journaling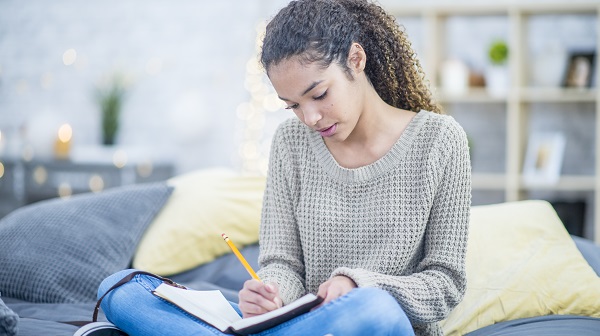 For kids, it's called a diary. For adults, it's referred to as a journal. Different names, but fundamentally the same thing — a safe, private space to record your hopes, secrets and feelings. Just like as a kid your diary helped you make sense of the world and your emotions, journaling as an adult can help you to clear your mind, focus on your emotional well-being, be mindful of your health and boost your spirit.
Calm the chaos
An on-the-go lifestyle means you're on-the-go, constantly. Journaling allows you to hit pause on your day. And since journaling is only meant for your eyes, perfect spelling, and proper grammar or even complete sentences are unnecessary. Write whatever and however you want. What a sense of freedom! If you want to make sense of your day, record the events. If you want to get to the root of what's bothering you, write honestly about what happened and how you're feeling. If you want to find some joy when things seem bleak, write down three things you're grateful for — it can be as big as the ocean or as simple as finding a moment to journal. Or, if you're already feeling happy, write down why — that will keep the good vibes going.
Improve mood and memory
Journaling offers a tangible way to unburden your mind or heart. If you're obsessing over a problem and how to fix it, journaling may be able to uncover a solution. You'll feel lighter just by writing down the problem, even if a solution doesn't immediately appear.
"Writing about yourself and your life provides a healthy outlet for your thoughts and emotions," according to Northwestern Medicine
®
.org. "Writing down what you experience and feel can both reinforce positive experiences and release negative thoughts."
Uncover health issues
You don't have a cold, the flu or a fever, but you just don't feel right, physically. Perhaps it's a stomach or headache or a muscle ache. If you're noticing that something feels off, start recording your symptoms. If you're diligent with details and consistent journaling, you might be able to discern a pattern to your health woes or uncover a potentially serious issue, or at the very least something worth discussing with a health professional. If you currently suffer from a chronic illness, a record of how you feel, what's working and what's not working can be a valuable tool you can use with your doctor.
Reach a health goal
Journaling makes you accountable, and that's essential when you're trying to make a lifestyle change. If you're eager to lose weight, commit to a workout routine or both, use journaling to better your health. You'll be able to see where you failed and make appropriate changes, and more importantly, you'll have a record of your successes, so you can celebrate.
Journaling offers a myriad of wellness benefits. Commit pen to paper daily, weekly or as often as you need to ease stress, record concerns and track behaviors. By writing everything down, you'll gain a greater sense of your health problems, goals and triumphs.
This article is presented by Parks Lincoln of Tampa.