4 Fun Festivals in Illinois and Indiana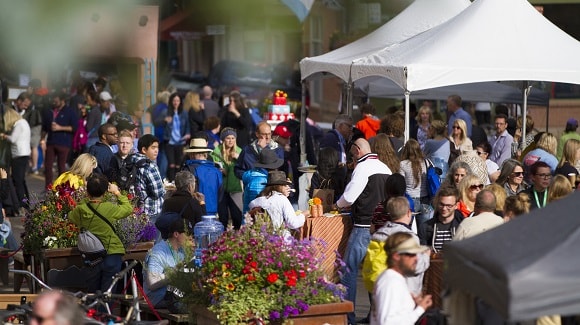 The return of summer in Illinois and Indiana means it's time to break out your shorts and tank tops, slather on the sunscreen and head out to enjoy live music and festivities. These summer festivals offer just what the doctor ordered after a long winter.
Mattoon Bagelfest (Illinois)
The 2019
Mattoon Bagelfest
carries the theme "Peace, Love and Bagels," which tells you just about everything you need to know about this annual tradition. What began as a free breakfast has spawned into a five-day festival ripe with music, food and fun, up to and including the Miss Bagelfest and Beautiful Baby Bagel contests. This year's entertainment includes the legendary Oak Ridge Boys, who will perform hits like "Elvira" and "It Takes a Little Rain" at Peterson Park on July 19 at 8 p.m. Be sure to stop out for the Bagelfest Parade on July 20 at 10:30 a.m., and stick around for — you guessed it — delicious bagels.
Cedar Lake Summerfest (Indiana)
Cedar Lake Summerfest
runs from July 3-7 and offers a full lineup of music, live entertainment and contests. This year's live music lineup is wide and varied, including local favorites NAWTY, The Picks and Kik-N-Jimi as well as Led Zeppelin cover band Kashmir. Other major happenings during Summerfest include the Citizen of the Year and Teen of the Year awards, the 33rd Annual Summerfest Car Show and the Great Cardboard Boat Race. In between, you can enjoy everything that's great about summer, from midway games and carnival rides to corn dogs and funnel cakes. Admission is free, and parking costs $5.
Decatur Celebration (Illinois)
From Aug. 2-4, thousands of residents and visitors will enjoy a wide range of music from big-name artists and rising stars at the
34th Annual Decatur Celebration
. This year's festival costs just $10 in advance and $15 at the gate for a full weekend, with your wristband giving you access to three blocks of games, rides, music, food and more. Children age 12 and under get in for free. One of the highlights is the Razzle Dazzle Goodtimes Parade, the only live televised parade in downstate Illinois, which features grand floats and marching bands. If you want to get in on the action early, the carnival opens for Family Discount Night on Aug. 1 from 5-11 p.m.
Frankfort Hot Dog Festival (Indiana)
Hot dogs are only the beginning of the fun at the
Frankfort Hot Dog Festival
, which runs from July 26-28. The annual 5K Bun Run gives you the chance to burn off the calories after you've had a couple of juicy dogs, while the dachshund races let you enjoy plump wieners of a different variety altogether. If you're mostly just in it for the franks, you can sign up for the hot dog-eating contest and try your hand at competitive eating. This year's festival also includes live music from local artist Kyle Cook as well as plenty of arts and crafts. Admission to the Frankfort Hot Dog Festival is free.
Don't spend your summer indoors; get in on the action and join your friends and neighbors at these great Indiana and Illinois festivals.
This article is presented by Jennings Chevrolet.