Classic Irish Dishes You Can Make at Home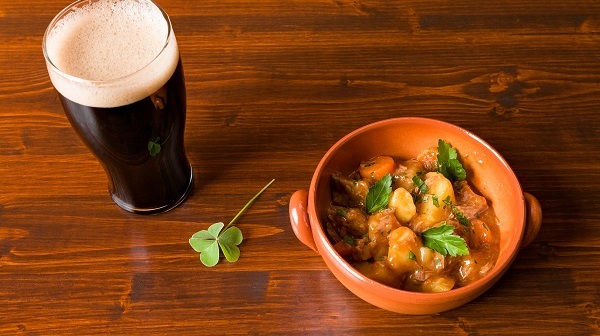 One of the best ways to experience another culture is through its native food and drink, and Ireland has a distinct culinary heritage you can discover in your own kitchen. This Saint Patrick's Day, serve your family these distinctly Irish dishes to learn — and taste — the heritage of the Emerald Isle.
Irish stew
One of the signature dishes of Ireland, stews are a reflection of the crops and farm animals prevalent across the land. For generations, Irish families would gather and cook their crops and livestock in a big pot over the fire. If you follow this recipe from David Tanis, writer for The New York Times' Cooking section, you can make that same Irish stew — although you'll use a different meat than the traditional mutton.
Start by drying and seasoning 3 pounds lamb shoulder cut into 2-inch chunks (or beef can be used as a substitute). Heat the meat in a sturdy pot on the stove with 4 tablespoons vegetable oil. Once the pieces are browned on all sides, set the meat aside without draining the pot.
Place 2 pounds wedge-cut onions and 1 pound sliced carrots in the pot with pinches of salt and pepper. In a couple of minutes, the vegetables will be cooked, and you can re-add the meat with 4 cups veal broth or beef broth. Bring to a simmer and add 1 large thyme sprig.
Peel and half 3 pounds russet potatoes and spread them across the top of the stew. Cover the pot with its lid and move it to the oven, where it will continue to warm at 350 degrees for an hour. Once the meat is tender, ladle the stew into bowls and enjoy.
Colcannon
Many traditional Irish dishes are variations of cooked potatoes and/or cabbage since both foods were so accessible and cheap to households throughout the country. Colcannon is one of the simplest yet most flavorful ways to prepare those ingredients, and you can follow this authentic family recipe from Taste of Home reader Marilou Robinson. It's a great side dish for your St. Patrick's Day feast.
Shred 1 medium cabbage head and cook it in a saucepan on the stove with 2 cups water. Once the water has boiled, let it simmer, covered, until the cabbage is tender. Scoop out the cabbage but retain the water. Put 4 pounds russet potatoes (peeled and quartered) in the pan with the remaining water. Cook the potatoes until they're tender.
Simultaneously, in a separate saucepan, bring 2 cups whole milk, 1 cup chopped green onions, 1 1/2 teaspoon salt, and 1/2 teaspoon pepper to a boil. Immediately remove from heat when the milk begins to bubble.
After you've drained and mashed the potatoes in a bowl, pour the milk mixture in and stir in by hand. Fold in the cooked cabbage after that. Top with 1/4 cup melted butter, minced fresh parsley, and a handful of cooked bacon crumbles before serving.
There are many other Irish dishes — like soda bread and cottage pie — that you can easily make with everyday ingredients from your neighborhood grocery. So if you like these two meals, expand your St. Patrick's Day menu by looking up other recipes to try.
This article is presented by VanDevere Auto Group.