Designed for All Conditions
The first Lexus ES with all-wheel drive has arrived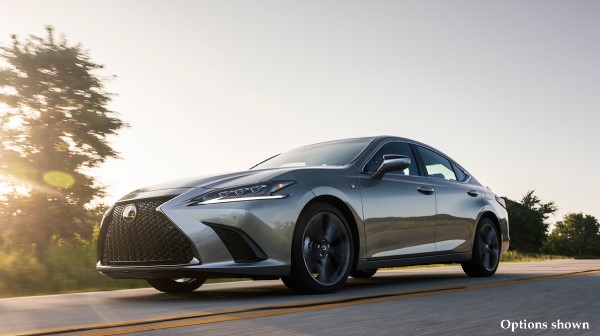 If you've ever wondered what a sudden banana peel storm looks like, then
this recent ad for the 2021 Lexus ES 250 AWD
will give you a pretty good idea.
After all, what better way to illustrate the vehicle's ability to confidently handle a wide variety of road conditions than showing it driving through a downpour of slippery banana skins, even if they're a metaphor for the more realistically slick road conditions you're likely to face, namely rain, snow, and ice.
Interestingly enough, to make the ad Lexus used approximately 2,500 real banana peels (in addition to computer-generated peels), which leads to another question about this entertaining video: what happened to all the actual bananas?
As it turns out, those 2,500 bananas were carefully peeled prior to filming and then donated by Lexus to Meals on Wheels programs. It's yet another example of Lexus continually looking for ways
to give to philanthropic organizations
(although this certainly was one of the more creative opportunities to do so).
And just in case you're now contemplating how much fun it would be to drive the
2021 Lexus ES 250 AWD
through a real banana peel storm, those conditions would, of course, be difficult to reproduce. However, it's easy to get a feel for the vehicle in everyday driving conditions by scheduling a test drive with your Lexus dealership.
If you can, pick a rainy day to try out the model's driving experience. The vehicle—the ES family's first AWD version—is designed to give you steady traction in inclement weather (as well as on gravel roads). Among its many features, the ES 250's AWD system integrates with the model's 203-horspower[1] in-line engine, which continually sends torque to all four wheels as you drive.
This helps the vehicle power through potentially slippery road conditions. During turns, for example, the AWD capability helps the vehicle maintain traction on the back tires to help prevent skidding, and the system is designed to efficiently accelerate from a stop with less tire slip.
Plus, to help prioritize fuel efficiency, the AWD system can automatically disengage when it isn't needed during easier driving conditions. The system will then instantly and seamlessly re-engage when the vehicle detects a need for all-wheel drive—such as crazy weather tumbling to the roadway from the sky.
By Brian Gill
[Legal Disclaimer]
[1] Ratings achieved using the required premium unleaded gasoline with an octane rating of 91 or higher. If premium fuel is not used, performance will decrease.