Outdoor Games to Keep Guests Entertained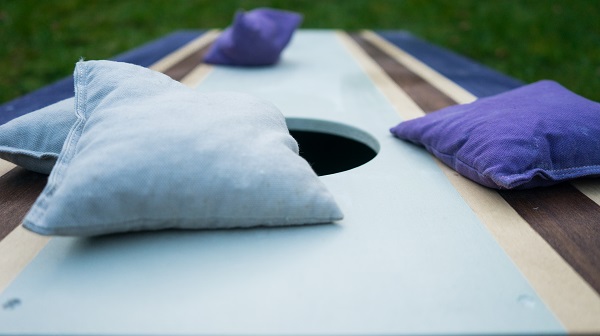 Summer is the ideal time to host outdoor cookouts and family gatherings. If you have a big enough yard, these fun games will amuse your friends and loved ones and create memories along the way.
Obstacle course
Turn your backyard into a challenging trail of obstructions for you and your friends. You can easily make one or two obstacle courses yourself, including a tunnel and belly crawl for children. All you need are wooden stakes, a rubber mallet, yard string and pool noodles. Make things even more interesting by adding other barriers, including hula hoops, tires, a picnic table and a board between two chairs.
500
In 500, one person throws a football, dodgeball or kickball to a group of players with his or her back turned to them. With each toss, the thrower shouts a number of points and "alive" or "dead or alive." If the thrower says "alive," a player must catch the ball for it to count. When the person throwing the ball says "dead or alive," any player can either catch the ball or pick it off the ground for the points. The winner reaches 500 points first.
Croquet
Bust out a classic for your next party. With a flick of the wrists, you and your friends are on a race to see who can smack their balls through the checkpoints the fastest. Take turns, and see which one has what it takes to go through the course with the fewest points. Most standard croquet sets accommodate six players.
Balloon down
This points-based game involves three balloons, tied down to a weight. Write down a number of points on each balloon, and place each one at a diagonal 10 to 15 feet from each other. Each round, you and your friends take turns to see who can get the most point by throwing a small football at the balloons. Award a prize to the one who scores the highest points in the game.
Disc tic-tac-toe
If you thought you were a master at tic-tac-toe, a challenging twist of accuracy puts a new spin on this one-on-one game. Grab six or more flying discs or Frisbees, a shower curtain and duct tape. After you have put tape on the shower curtain, standing at a fair distance and take turns playing the board by tossing the discs or Frisbee toward your target. First one with a three-disc sequence wins.
Spike ball
Spike ball is a four-person game that follows similar rules to volleyball. As seen on "Shark Tank," this activity includes an adjustable net with foldable legs on the ground and a ball. To start, one player serves the ball off the net. The other team then needs to hit the ball three times before hitting it back via the net. It then breaks away from volleyball because there are no boundaries. Each play can hit the ball from any side of the net. For every instance a team cannot return the ball, the other team gets a point.
Regardless of your accuracy, speed and competitive nature, these games provide activities that people of all ages can enjoy. Check your garage for supplies, and make a dash to the store for the necessary items you need to make your next outdoor party a success.
This article is presented by VanDevere Auto Group.