Car Care: Tips for Cleaning Your Interior
Easy and affordable ways to spiff up your ride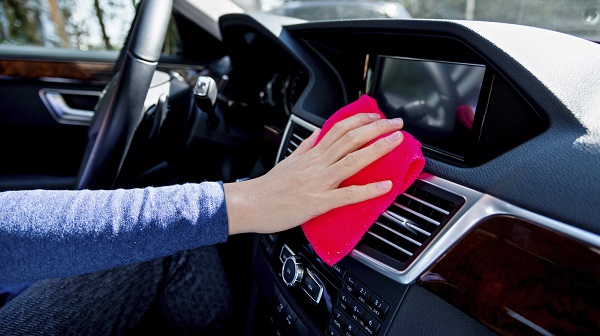 Cleaning your car can be an expensive and time-consuming process — but it doesn't have to be. Here are five easy tips to help you freshen up your vehicle's cabin.
Buy some brushes
Dust and gunk can accumulate in the many tight crevices and corners of your vehicle. However, you don't need a pricey set of car detailing brushes to freshen up your vehicle. Instead, you can use toothbrushes and budget-friendly paintbrushes from the hardware store. Pick up a small sponge brush to clean out your vehicle's air vents. To avoid simply spreading the dust around, vacuum while you brush.
Squeegees aren't just for windows
While squeegees can make it easy to clean the gunk off your car's windows, these handy tools can also work wonders on your interior. If you're trying to remove pet hair from your upholstery, lightly mist the fabric with clean water from a spray bottle, then squeegee your seats to swipe away lint, dust and fur.
Stop stubborn odors
Sometimes, an air freshener just doesn't cut it. Luckily, there are some non-toxic, pet-friendly ways to combat foul smells. First, try dusting your upholstery with baking soda and letting it sit for 10-12 hours. After that time has passed, vacuum up the baking soda. If that doesn't do the trick, try deep cleaning your vehicle's carpet and upholstery with a wet-and-dry vacuum cleaner, making full use of its detergent-spraying capabilities. Be sure to test the detergent on a hidden area of your upholstery, just to make sure it doesn't cause discoloration. You can also try fabric shampoo. If all else fails, try replacing your vehicle's cabin air filter, which can hold onto musty smells and pollutants.
Clean with coffee filters
A coat of dust can dull the appearance of your vehicle's dashboard. Unfortunately, it's hard to vacuum these surfaces without scratching them. For a cheap, easy, and earth-friendly solution, grab a coffee filter from your kitchen. The fine paper can fit into the tightest crevices and sweep dust away effortlessly.
Hit the hidden areas
Your vehicle's interior has tons of movable parts. Instead of blindly vacuuming under the seat, move the seats forward and backward to clean under them properly. If your ride has folding seats, fold them down to clean the backs easily. Don't forget to wipe out and vacuum inside of seatback pockets and door pockets. It's also a good idea to remove and shake out the floor mats.
Unless your vehicle is used heavily, you should only need to give the cabin a thorough cleaning once every six to eight months. With regular cleaning and maintenance, you take pride in your ride — and maintain its value for years to come.
This article is presented by Autohaus on Edens