Vehicle Profile: 2021 Toyota GR Supra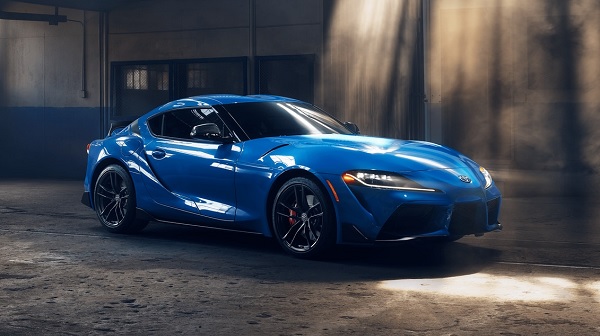 Toyota is already bringing significant updates to the GR Supra just a year after bringing back the iconic model. A new four-cylinder model, a substantially more capable six-cylinder engine and new interior features — all for only a modest price increase — give the 2021 Toyota GR Supra incredible appeal.
Upgraded six-cylinder engine
Though the 2020 GR Supra's 3.0-liter turbocharged six-cylinder model was no slouch — and there was third-party evidence it was more powerful than its official specs claimed — Toyota has elected to give it a substantial upgrade before putting it back into the 2021 model. It now produces 382 horsepower and 368 lb-ft of torque, up from 335 horsepower and 365 lb-ft, which the automaker says was achieved via redesigned pistons and an expanded dual-branch exhaust manifold. This has helped reduce the engine's compression ratio and improve its heat management, respectively. As a result, the Toyota GR Supra 3.0 is not only more powerful but also able to maintain higher torque at higher rpms. Expect an improved 0-60 mph time in the realm of 3.9 seconds, which is about 0.2 seconds better than the 2020 model manages.
New four-cylinder model
Completely new for the 2021 Toyota GR Supra is a four-cylinder model. This 2.0-liter turbocharged unit uses direct fuel injection and continuously variable valve timing to crank out 255 horsepower and 295 lb-ft of torque, impressive figures for such a small engine. It also uses the same eight-speed automatic transmission as the six-cylinder model, with power sent to the rear wheels for extra agility.
Notably, the GR Supra 2.0 isn't just a less powerful version of the GR Supra 3.0. Because of the four-cylinder's compact size, Toyota was able to move the engine further back into its compartment to achieve a perfect 50/50 distribution of weight between the front and rear of the car. Furthermore, the GR Supra 2.0 is about 200 pounds lighter, in part because the engine is lighter but also because it doesn't feature the adaptive suspension and active differential offered on the 3.0.
The lighter model should thus be just as fun to drive, if not more agile, though less fast on the straights. It's also the most affordable Supra you can buy, even more affordable than the entry-level 2020 model, and gets all of the same interior features.
Interior features and new special edition
Every 2021 Toyota GR Supra is offered with a new Safety and Technology Package. It includes a 12-speaker JBL
®
sound system, parking sensors with emergency braking, full-speed dynamic radar cruise control and wireless Apple CarPlay
®
smartphone integration, along with a few other safety features. The most notable standard features are an 8.8-inch screen running the BMW iDrive infotainment system, a digital gauge display, a 10-inch audio system and deeply adjustable, bolstered seats. On the 3.0 Premium, you also get wireless phone charging and a full-color head-up display.
For 2021, a new A91 Edition replaces the special Launch Edition of the previous year. It adds satin black graphics, a carbon fiber rear spoiler, carbon fiber mirror caps, 19-inch matte black wheels and tasteful blue Alcantara
®
elements and contrast stitching to make the leather-trimmed interior really stand out.
Those who had looked on the next-generation Toyota GR Supra with interest and decided to wait before pulling the trigger on a purchase should feel their patience was validated. The 2021 Toyota GR Supra is an unusually substantial upgrade just a year after the launch of one of the most highly anticipated cars of the decade.
This article is presented by Krause Toyota.