Portland on a Budget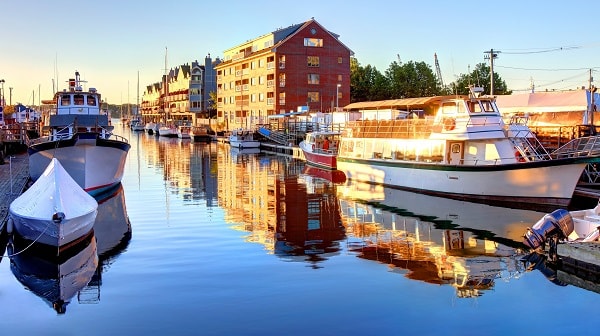 Portland draws millions of visitors each year with its beautiful Atlantic Ocean scenery, centuries of rich history and energetic sense of renewal and creativity. Maine's largest city is also a great destination if you're traveling on a budget, offering plenty of reasonably priced activities, attractions and places to dine.
Thrifty things to do
From historical sights and local art to gorgeous parks and trips on the water, you'll find a wide variety of budget-friendly activities to keep you busy in Portland.
For gorgeous views of the entire city and its harbor, head to the top of the
Portland Observatory
. Built in 1807 as a maritime signal tower, this seven-story structure offers tours for $10 ($5 for kids). To get a ground-level view of the harbor, take a stroll on the
Eastern Promenade
. This lovely historic park, created by the same designer that laid out New York's Central Park, stretches along the water's edge for 1.5 miles and offers a sweeping look at Casco Bay.
Be sure to set aside some time for exploring Portland's picturesque downtown. Along the historic Old Port district's cobblestone streets, you can enjoy bustling nightlife, unique local shopping and the sights and sounds of waterfront activity. The nearby Arts District offers art galleries, theaters, music venues and the
Children's Museum and Theatre of Maine
($12.50 per person). The Arts District's crown jewel is the
Portland Museum of Art
, home to thousands of paintings by masters like Winslow Homer, Mary Cassatt and Andrew Wyeth. Admission is $18 for adults and free for visitors under the age of 21. On Friday evenings, admission is free for everyone.
Portland's location on the coast makes it a perfect spot for water-related activities. If you'd prefer to do your own paddling, rent a kayak or paddleboard and start exploring. If you'd like to venture farther out, board
a moderately priced ferry
and visit the islands of Casco Bay, or spend a bit more for a specialty cruise. If you'd rather stay on dry land, hit one of the Portland area's
many sandy beaches
or admire the
six iconic lighthouses
within a 20-minute drive of the city.
Economical eats
Portland's booming food scene offers a multitude of splurge-worth options, but you can also find plenty of delicious bites that won't demolish your travel budget.
Start your day with eggs and pancakes at
Becky's Diner
, where you'll be hard-pressed to find anything over $10 on the breakfast menu. This local favorite also offers highly affordable lunch and dinner options, including pasta dinners and fresh-caught seafood. If you'd prefer something a bit sweeter for breakfast, indulge yourself with a visit to
The Holy Donut
, where the not-so-secret ingredient in their delicious pastries is Maine mashed potatoes.
If you love seafood, it's hard to find a better place to eat than Portland. For a feast that's as inexpensive as it is mouthwatering, head to
Susan's Fish-n-Chips
. Here, you can chow down on lobster rolls, clam cakes and bowls of fresh chowder, along with fried fish, shrimp, lobster tail and more. You're likely to crave another meal of frugal-yet-fresh seafood later in your visit, so add
Gilbert's Chowder House
to your itinerary, too.
If you're feeling overwhelmed by Portland's wealth of tempting restaurants, consider a
guided food tour
. For one flat fee, you can enjoy samples from a wide variety of eateries — from appetizers and drinks to main courses and dessert — and learn more about the city in the process.
Whether you prefer touring museums, enjoying the great outdoors or finding hidden dining gems, you'll find a diverse assortment of activities for the tightest of budgets when you visit Portland.
This article is presented by East Hills Chrysler Jeep Dodge Ram.