Adoptable Pet of the Month - Carleton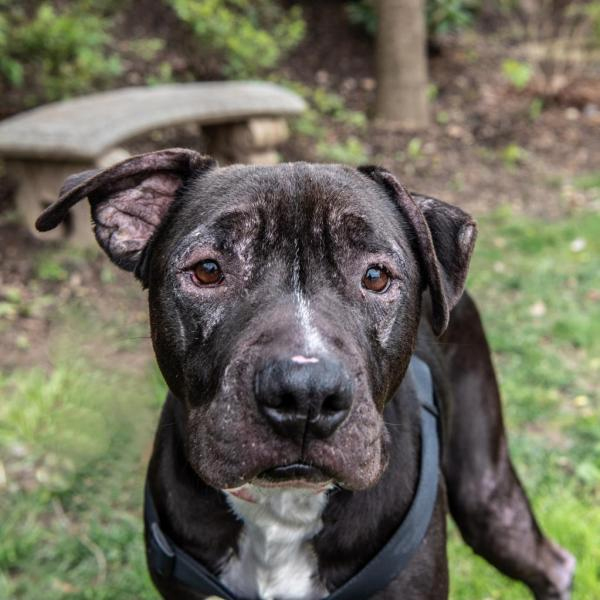 Y'all, meet Carleton!
This pup is SO sweet, and SO squishy, and I have no idea why here is still here with us waiting on a home. Carleton came to us in February looking ROUGH. Skin issues, hind end weakness, and awful goopy/irritated eyes. We quickly realized his weakness was due to an old left limb patellar injury, but with simple joint supplements and some pain meds he gets around just fine! A special diet has helped his food allergies (suspected to be causing the skin issues). Plus, we were also able to do entropion surgery on both eyes, offering Carleton some much-needed relief! Entropion is a genetic condition that causes the eyelid to roll inward, irritating their eyes 24/7.
He spent a little while in my office with me today and was absolutely amazing. Carleton climbed up in my chair and happily hung out while I worked, coming over now and then for pets and butt scratches (he LOVES butt scratches). He is the perfect mix of active and chill. If you're looking for a pup who is always down to hop in the car and go for a walk/hike, knows no strangers, and also knows how to take a solid nap on a rainy day, Carleton is your dude! He's done well in our playgroups here, mostly just hanging out and acting aloof. He does need to be fed separately from other dogs, but we always recommend that anyways because, well, you just never know! He also is mostly housetrained, according to his foster family. He only had one accident. This pup will make such an excellent buddy for someone!
Come meet him & take him home today. Contact the
Asheville Humane Society
. For more information on the Prestige Adoptable Pets of the Month, please visit
here
.