Wedding Attire Do's and Don'ts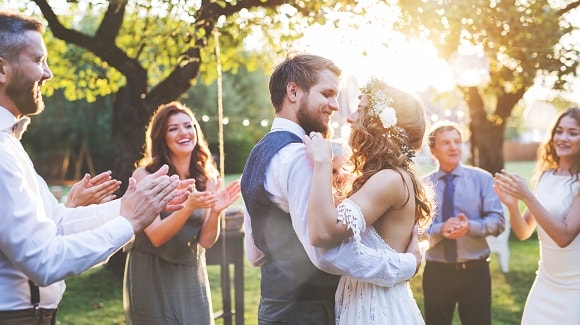 Finding the perfect outfit for a wedding can be a fashionable conundrum. Is it a formal affair, backyard barbecue, destination event or any other unique wedding theme? Has the couple made a special request that you don the colors of their alma mater? You want what you wear to honor the special occasion, keep you comfortable and prevent you from getting sideways glances from other guests. The tips below will help you avoid a fashion faux paus as you toast the bride and groom.
What to wear
Use the invitation (sometimes it will specifically state dress guidelines like "black-tie" or "white tie"), venue information, season and the couple's aesthetic to help guide your wardrobe choices. A ceremony in a church means more conservative attire, which might also include a jacket, sweater or shawl to cover bare arms, according to Cosmopolitan writer Rachel Torgerson.
A reception in an elegant country club or fancy hall may require a full-length dress or a suit and tie. A cocktail dress could be perfect for a late afternoon/early evening wedding. If the ceremony takes place during the day and the reception is an evening event, you could make a well-choreographed costume change.
What not to wear
It might be an old-fashioned rule, but wearing white to a wedding, unless it is specifically requested by the couple or represents the couple's culture, is a fashion no-no. Most brides will wear a white dress or gown, and guests should avoid wearing apparel in a similar hue.
A spring wedding isn't the most fashionable time to fall back on your favorite little black dress, according to the experts at David's Bridal. Instead, they suggest a colorful or printed frock — florals are always on-trend in warmer months. Save your LBD for a night out on the town, or if you can't see yourself in anything else, dress your LBD up with a colorful shawl, pair of shoes and accessories. It will feel like a brand-new dress and be more fitting for the happy occasion.
Just because the couple is super laidback and casual, doesn't mean they want you showing up in jeans, sweats, workout clothes, flip-flops, sneakers or shorts. A casual affair doesn't equal sloppy.
"If you are concerned about your comfort level for the day, try an outfit in a soft, natural fabric like cotton," suggests Torgerson.
Although not the most comfortable form of footwear, heels of varying heights are the go-to choice for many female wedding guests. However, heels should stay in the closet if the wedding is set outdoors and requires guests to traverse over grass, sand, rocks or dirt, warns Martha Stewart Weddings contributing writer Jaime Buerger.
Fashion is a form of self-expression, but at a wedding, it's more respectful to blend with the crowd than to steal the spotlight from the bride and groom. Respect the code, venue, event and particularly the couple when choosing your wedding guest threads. If in doubt whether to don sequins or cotton, seek guidance from the happy couple. In doing so, you'll be remembered as a thoughtful, well-dressed guest.
This article is presented by Bob Hook Chevrolet.