Welcome to The Year 2030
What it would feel like to drive the Lexus LF-30 Electrified Concept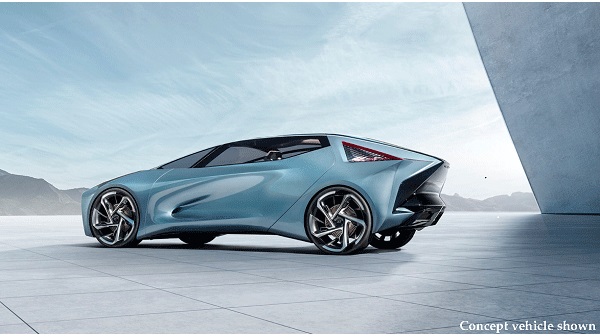 We may have just entered the 2020s, but we'd like you to think about the cusp of the next decade for a moment—the 2030s—and imagine what your Lexus driving experience may be like in 10 years' time. To help you, Lexus recently unveiled a tangible glimpse of this future in the form of an astounding concept vehicle called the
LF-30 Electrified concept
. If you were to own this vehicle in the year 2030, here's how Lexus envisions your experience:
First of all, you'd be liking the vehicle's unique accessory:
The LF-30 Electrified concept comes with a "Lexus Airporter" drone-technology support vehicle that, thanks to the device's autonomous control, would carry your belongings to and from the car (luggage for a business trip, for example).
Your front passenger's hands would be occasionally, and gracefully, waving around:
In front of your passenger would be a large display screen where key comfort, entertainment, and navigation controls—displayed as AR graphics—would be navigated with hand gestures.
Occupants would be under the sun, or stars, even with a roof:
If you're the type who likes natural surroundings, you'd be enjoying the LF-30 Electrified concept's glass roof. But get this: Lexus designers envision that roof to be changed at will above the rear seats—to interior imagery of a star-filled sky, for instance, displayed via augmented reality (AR) and controlled by voice or hand gestures.
Meanwhile, when driving, your eyes and hands might barely be moving around:
In ten years, Lexus' commitment to creating a space that puts driving information within forward-driving vision, as well as driver controls within natural reach, will, of course, have made further design and technical strides. In front of you would be steering-controller-mounted switches tightly integrated with a Head-Up Display, which means you'd be able to control the navigation system, the audio system, and driving-modes without having to shift your forward vision or operate manual switches.
You'd be choosing your privacy level:
Privacy settings would apply to the windows, the opacity of which could be freely adjusted. So, when you're out on the open road, you'd likely be choosing a clear setting to enjoy the surroundings, while in a city environment—say a heavy traffic situation—you might be choosing to darken the windows for privacy.
Once in a while, you'd be conveniently letting the vehicle take over:
The LF-30 Electrified concept, thanks to an autonomous tech concept called "Lexus Teammate," would not only allow you to let the vehicle drive on its own (in Chauffeur Mode, for example), it would do so with your comfort in mind. To the end, autonomous-driving modes would give you extra space due to the steering controller shifting away.
Your vehicle would know you—and you'd appreciate that:
Each time you speak, even when talking to passengers, your vehicle would be hearing and learning your preferences—its artificial intelligence systems would distinguish between voices. It would also use personalized information stored on your control key to regulate the interior environment to your liking, such as air temperature, audio, preferred navigation routes, and even suspension settings (while also offering relevant destination recommendations like a hotel concierge).
By Brian Gill