Subaru is Bringing Comfort to Cancer Patients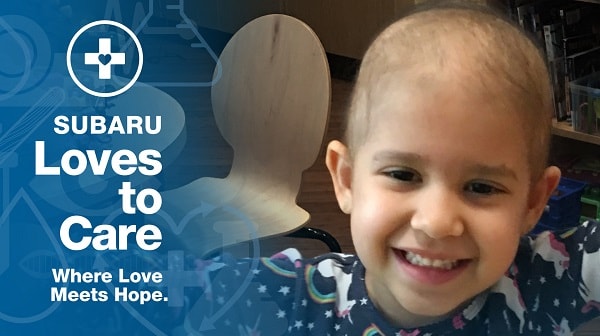 In partnership with the Leukemia & Lymphoma Society, Subaru spent the month of June bringing glimpses of light into the lives of cancer patients.
As part of the 2019 Subaru Loves to Care month, LLS and Subaru teamed up to donate arts and crafts kits, blankets and encouraging messages to thousands of patients at hundreds of hospitals across the United States.
"Curing cancer requires collaboration. It requires all of us, together," said Dr. Louis J. DeGennaro, the president and CEO of LLS. "Working with Subaru, it is our combined dedication and heart that is helping to bring us to the ultimate frontier: cures for families today, and for generations to come."
In an effort organized through the Subaru Love Promise philanthropic platform, more than 500 Subaru dealerships collected cards, letters and online messages for patients in their communities.
At the end of the month, dealerships joined local LLS groups to deliver these messages, along with tens of thousands of blankets and craft kits, to local treatment centers and hospitals.
"At Subaru, we are passionate about showing love and respect to all who interact with our brand through the Subaru Love Promise and meaningful partnerships with organizations like the Leukemia & Lymphoma Society," said Thomas J. Doll, Subaru of America's president and CEO.
As part of Subaru Loves to Care, LLS has been gathering stories from patients who have been touched by their communities' generosity.
Seven-year-old Sophia is one of those patients. When she was 5, this Florida youngster began her battle against pre-B-cell acute lymphoblastic leukemia. After being forced to miss her entire kindergarten year for treatments and hospital stays, she's now in remission and enjoying first grade.
"Sophia is a strong fighter," said Marlene Costa, her mother. "She is so courageous and never stops smiling."
This marks the fourth year in a row that Subaru and LLS have worked together to support patients like Sophia during the automaker's annual month of giving back. It's part of Subaru's larger mission of community support and involvement — a mission the company has backed up with over $120 million in donations to local causes and more than 40,000 hours of employee volunteer efforts.
This article is presented by Prestige Subaru.