Volvo Develops Climate-Neutral City Infrastructure Technology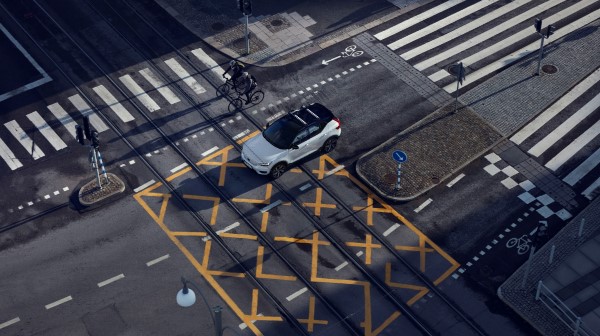 Volvo is working towards a cleaner, greener future. In addition to pioneering electric vehicle technology, Volvo is spearheading an initiative to create a climate-neutral city, complete with automated taxis and artificial-intelligence-managed transportation infrastructure. Here's how the automaker intends to achieve this lofty goal by its target date of 2030.
A new type of urban landscape
Starting this spring, Volvo and the Swedish city of Gothenburg are joining forces to test and develop up-and-coming eco-friendly innovations. The Gothenburg Green City Zone project aims to transform the bustling port city into a high-tech, connected hub that's replete with climate-conscious transportation services. Since the automaker will be able to see its innovations at work in a real, living environment, Volvo is expecting to make significant strides in fields like electrification, vehicle automation, and mobility-sharing management. The city will even gain robotaxis, courtesy of M, a Volvo-owned transportation company. Volvo estimates that each M vehicle will have the capacity to replace eight privately-owned passenger cars.
Håkan Samuelsson, chief executive of Volvo Cars, explains that one way the Gothenburg Green City Zone project seeks to make the city more eco-friendly is by limiting the number of vehicles in the testing area — and by providing other means of getting around town. "We want to be involved in creating the cities of the future and keep them livable. This initiative gives us an opportunity to do that and take on responsibility in our own hometown at the same time," he stated.
Smarter technology for a connected future
The Green City Zone project will have many innovative ways to limit its greenhouse gas emissions. Volvo will test geo-enabling technology, which will make vehicles abide by speed limits and switch hybrid models to operate in electric-only mode. On top of that, the geo-enabled zone will allow traffic infrastructure to communicate with the active safety features inside of modern cars. It will even let drivers share data with each other.
The innovations don't stop there — Volvo is also seeking to provide residents with electrified mobility hubs, as well as an accessible electric-vehicle-charging network.
"We want to use our knowledge and technology to help create a future city that is electrified, connected, shared and climate-neutral," said Henrik Green, the Chief Technology Officer at Volvo Cars. "This is an opportunity to lead by example, by testing new technologies and services in a live large scale environment, we can show that if it is possible here, it is possible anywhere."
Volvo goes green
Even as Volvo makes strides towards creating eco-conscious technology, the automaker acknowledges that implementation is one of the main challenges that institutions face when they try to go green. In addition to giving Gothenburg an environmentally friendly makeover, Volvo is slashing its own carbon footprint with electrified technology. The automaker constantly aims to operate more sustainably, and has put forth several goals to achieve by 2025.
Volvo is working towards cutting carbon emissions by 40 percent for each vehicle, along with a 25 percent reduction for the company as a whole. Additionally, the automaker is aiming to have an even split between hybrid and electric models in its lineup. But the automaker isn't stopping there — its overall goal is to become climate neutral by 2040.
Get a glimpse of the future by taking a hybrid or electric Volvo for a test drive.
This article is presented by Stadel Volvo.