The Origins of Lexus' Incredible Service
How Lexus redefined the luxury ownership experience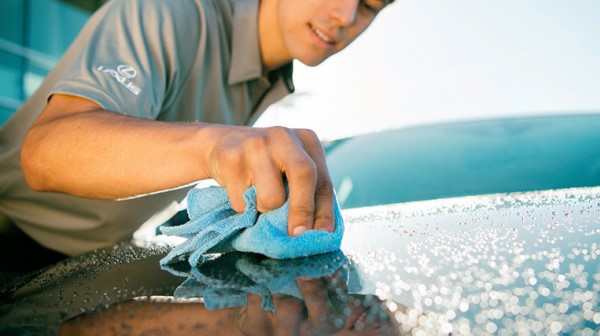 If you were to visit a luxury-auto dealership before Lexus existed, here's what you may have found: Snobbish environments. Hard-to-find service departments. Decidedly non-luxury experiences such as doors covered with promotional banners and drab service waiting areas.
Hard to believe? Don't take our word for it. This is what Lexus personnel discovered, many years ago, as they researched the possibilities for Lexus' initial dealership experiences. So Lexus decided to do things differently when it launched, and in doing so redefined what it means to be a luxury vehicle driver. You'll of course recognize the following experiences as part of today's SERVICE by Lexus ethos, but they were largely unheard of when Lexus unveiled them across the country:
Consider these "radical" ideas that Lexus launched with the first Lexus dealerships:
Offer premium Lexus vehicles as loaner cars (and not lower-quality brands and models). Make the first two scheduled maintenance visits complimentary for guests.[1] Thoroughly wash serviced vehicles before returning them to drivers. Devise luxury retail experiences beyond automotive parts. Go to extreme lengths to solve a guest's problem, mechanical or not. All sound familiar? These amenities were quite new when Lexus unveiled them, guided by an internal directive to treat every driver as a "guest in our home."
And then there was the groundbreaking concept of a premium guest "lounge":
Lexus also rethought how things should
feel
in a luxury dealership. To this end, Lexus designers imagined the space you find today—a place where people actually enjoy spending time during service visits. Coffee tables, "media walls" with TVs, fireplaces, comfortable leather chairs—these were new ideas when they appeared in Lexus dealerships. Since then, this upscale lounge approach has gone even further, as many Lexus dealerships now offer massages, premium coffee, and even the ability to host meetings.
Valet-style service drop-off bays:
When thinking about a new type of dealership experience, Lexus designers also considered the experience one receives when arriving at an upscale hotel or restaurant. So they mandated that each service department entrance not only be easily accessible for guests, but also be a welcoming, hospitable experience, where every guest would be personally greeted as the VIP they are. This remains a key aspect of Lexus dealerships to this day, because it's the experience Lexus drivers deserve.
Time-conscious innovations:
Lexus designers also envisioned a service experience that placed importance on guests' limited time. So Lexus launched a system where service advisors could spot guests as they arrived, thanks to a large window view to the valet area. This allowed them to pull up each guest's service history by the time she or he reached the desk, which helped streamline the experience. Today, this courtesy exists in a much more sophisticated digital form: During service visits, some consultants quickly upload guests' service histories to a tablet upon their arrival, so their vehicle details are efficiently, and quite literally, already in their hands.
Service advisors knowing each guest by name:
Another new approach was to make sure Lexus dealership personnel knew each guest on a personal level, similar to the personal working relationship one might receive at a small-town dealership. Today, this concept manifests itself in many dealerships' policy of providing guests with a dedicated consultant—rather than having multiple points of contact at a dealership visit, guests receive a single personal consultant to accompany them through a service visit, or through the process of a new purchase or lease.
By Brian Gill
[Legal Disclaimers]
[1] Lexus provides complimentary maintenance for your first two scheduled visits. To obtain these services, contact your Lexus dealership. Complimentary services applicable for new Lexus vehicle registered owners. Complimentary service intervals may vary, depending on model. Please refer to the Warranty and Services Guide for details. These services apply to Lexus vehicles registered and normally operated in the United States, U.S. territories, and Canada.