Vehicle Profile: 2020 Chevrolet Camaro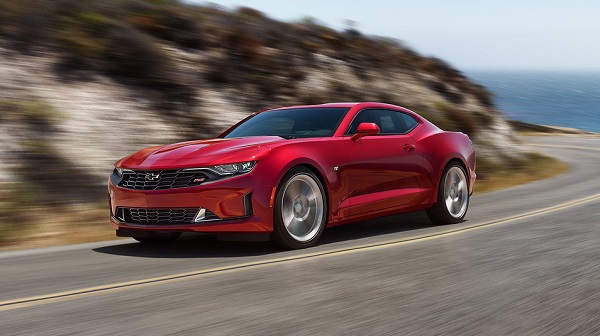 Few vehicles are as singular in vision and purpose as the Chevrolet Camaro, an American icon synonymous with the freedom of the open road. For over 50 years, the Camaro has excited countless imaginations with its instantly recognizable look and even more recognizable performance. With the 2020 Chevrolet Camaro, that ability to excite and inspire is as vibrant as ever.
Impossible to miss
To pull up in a 2020 Chevrolet Camaro is to guarantee that heads will turn your way. There's a quality to the Camaro that's helped to set it apart from its competitors since its debut in 1966, and it's been made even bolder for 2020. The vicious animal that eats ponies is a hulking apex predator, always on the hunt for a challenge and more than equipped to conquer its prey.
The 2020 Camaro fuses muscle with aerodynamics — it's sleek and graceful yet brutish and brawny all at once, like a great white shark. Its fearsome face is unique depending on the model, but whether it's the LT1, the SS or the ultra-powerful ZL1, it's clear that this is as much a purpose-built predator as it is a car.
Though fierce and focused, the 2020 Chevrolet Camaro is not without its fun side. Its passion shines through in particular when you dress up the Camaro in one of the more vibrant color options, including Crush and Red Hot. The electric green look of Shock calls to mind beautiful creatures whose bright colors serve as a warning to the other creatures in the jungle.
Impossible to forget
The legend of the Chevrolet Camaro would not be as pronounced as it is without power to back up its muscular aesthetic. There is no shortage of might with the 2020 Chevy Camaro, which boasts an impressive four-engine lineup that puts other muscle cars to shame. The Camaro LT1 and SS boast a 455-horsepower 6.2-liter LT1 V8, offering incredible performance capabilities for the price point. Capable of sprinting from 0-60 mph in four seconds flat with the optional eight-speed paddle-shift automatic, the Camaro LT1 and SS live up to the fearsome appearance.*
For its great history, no Camaro matches the capability of the mighty ZL1. The 2020 Chevrolet Camaro ZL1 is built for weekend on the track, boasting a 6.2-liter LT4 V8 — enhanced by a 1.7-liter Eaton® supercharger — that will make your heart skip a beat when it roars to life. Once it resumes, your pulse quickens at the feeling of 650 horsepower and 650 lb-ft of torque driving you forward, racing to 60 mph from a dead stop in just 3.5 seconds.**
The thrill of driving the 2020 Chevrolet Camaro is so much more than raw power. There's a great deal of finesse in the way it moves, particularly when equipped with Magnetic Ride Control™ capable of adapting to road conditions in between 10-15 milliseconds. Available Custom Launch Control lets you fine-tune your takeoff like a scientist in the laboratory, and the available Track setting in the Drive Mode Selector automatically adjusts the attitude for a more competitive feel.
Legends like the 2020 Chevrolet Camaro aren't born — they're built. For 50 years and counting, Chevrolet has built the Camaro to be a beast of mythic proportions that draws stares and whispers. But the 2020 Chevrolet Camaro is no fairytale product — it's an American-built performance icon that's quite real and ready for the hunt.
*Based on initial vehicle movement. Coupe models with available 8-speed paddle-shift automatic transmission.

**Based on initial vehicle movement. Coupe models with available 10-speed paddle-shift automatic transmission.
This article is presented by VanDevere Auto Group.