Vehicle Profile: 2021 Ford E-Series Cutaway
Power and flexibility in one advanced vehicle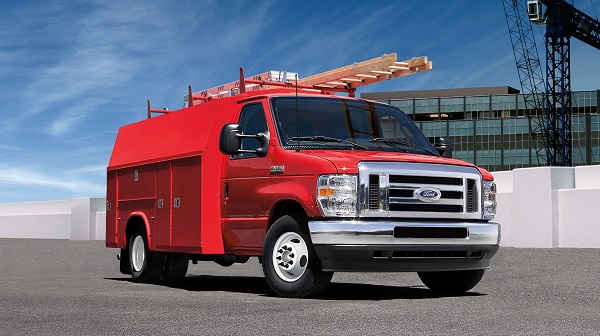 The 2021 Ford E-Series Cutaway is a versatile van that can be customized to tackle just about any job. From school buses and work trucks to ambulances and motorhomes, the Ford E-Series Cutaway can meet your demands. In addition to offering a wide variety of upfitting packages, this dependable truck delivers plenty of power and a wealth of modern tech tools to help small business owners manage their fleets. It also boasts some exciting updates for the 2021 model year, including a refreshed interior and pair of new 7.3-liter engines.
The 2021 Ford E-Series Cutaway is available at three trim levels: E-350 SRW, E-350 DRW and E-450 DRW.
Powertrain and performance
You can choose between two powerful engines on the 2021 Ford E-Series Cutaway. Both are 7.3-liter V8 engines, which were engineered to provide consistent performance across the whole power band. It comes standard with a 7.3-liter premium-rated engine that churns out 350 horsepower and 468 lb-ft of torque. You can also opt for the available 7.3-liter economy-rated engine, which pumps out 300 horsepower and 425 lb-ft of torque. Both engines pair with the Ford TorqueShift
®
six-speed automatic transmission for a smooth ride. In terms of capability, the E-350 offers a maximum payload of 7,210 pounds, while the E-450 maxes out at 8,980 pounds. And if you spring for the available Trailer Towing Package, your E-Series Cutaway will boast a maximum towing capacity of 10,000 pounds.
Customization options
Thanks to a massive selection of upfitting packages, you can get the most out of your Ford E-Series Cutaway. The Ambulance Prep Package equips your vehicle with a wealth of features, including dual 78 amp-hour heavy-duty batteries, which provide power for medical equipment. It also boasts exclusive badging, an auxiliary fuel port, a limited-slip axle and the Auxiliary Heater/Air Conditioning Connector Package, which will make it easier to install climate control to keep both patients and first responders comfortable. The Motorhome Prep Package gets the Ford E-Series Cutaway ready for adventure. It adds both utility and flair to the model, with features that include chrome accents, sun cloth visors and cruise control to lend a hand on those long highway drives. The School Bus Prep Package and the Multi-Function School Activity Bus Prep Package make it easy to haul around a crowd. These packages give your Ford E-Series a larger fuel tank, a high-backed driver seat, a banded glass door and frame pucks. It even removes the front passenger seat so it's easier for your riders to enter and exit the bus.
Business-minded tech tools
Keep tabs on your fleet with Ford Telematics
™
and Ford Data Services
™
. Ford Telematics
™
lets you check up on your fleet vehicles via GPS, track driver behavior and monitor fuel consumption. It even provides you with maintenance reminders and Vehicle Health Alerts. For even more insight into your fleet, take advantage of Ford Data Services
™
. It allows your Ford E-Series Cutaway to work seamlessly with third-party technology and receive the latest software updates.
Looking to take your commercial fleet to the next level? Whatever your needs, the 2021 Ford E-Series Cutaway has the flexibility and strength to enhance the way you do business.
This article is presented by Mullinax Ford.