Lose the Winter Weight with These 4 Workouts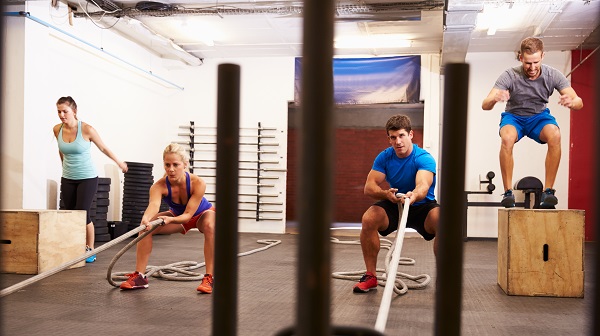 Winter is on the horizon, and with the shorter days and colder weather comes an inevitable feeling of lethargy. Less daylight and fewer reasons to go outside can leave you feeling like you could curl up on the couch all evening. However, if you want to avoid putting on unwanted pounds between now and spring, get started on your beach bod early with these fat-burning workouts.
Swimming
Jumping into your gym's pool and swimming laps is a great way to forget about the cold and doldrums of winter. It's also a great way to keep the fat off if you're wanting to stay trim throughout the season. Livestrong's Lisa M. Wolfe recommends learning and becoming proficient at the breaststroke, backstroke and freestyle to maximize the number of calories burned. If you maintain a consistent pace for 10 minutes with short periods of rest in between, you can burn upwards of 800 calories per hour.
Circuit training
A great weight-loss routine that focuses on building up strength in your entire body is circuit training. According to Shape's Charlotte Hilton Andersen, circuit training is any workout where you perform multiple exercises — typically between five and 10 — that target different muscles and without much rest in between sets. There are tons of different ways to approach circuit training — you can use machines, cables, free weights like dumbbells or kettlebells or a mixture of different styles — but the result is almost always a workout that boosts your cardio, builds muscle and helps you torch fat.
High-intensity interval training
High-intensity interval training, or HIIT, is a workout in which you alternate between bursts of intense activity for short periods of time and follow it up with a slower or low-intensity movement or total rest. An example would be 10 minutes on the treadmill during which you walk for a minute, sprint for a minute, go back to walking for a minute and repeat. According to Andersen, HIIT is a great way to lose weight because it's effective and efficient — you get much more of a workout in with less time than you would by going at a steady pace.
Jump rope
Jumping rope is as old-school as it gets, but it's a tried and true exercise if your goal is to lose some weight. Jump ropes are cheap, easy to find and easy to transport anywhere you plan to get in a quick bit of exercise. Self's Samantha Lefave recommends a great routine that involves doing 100 traditional jumps, 100 quicker jumps, and then repeating with fewer reps. By the end, you'll be drenched with sweat but feeling oddly nostalgic.
These workouts are just a few ideas you can keep in mind to keep the weight off this winter. It's important to remember that the key to any successful weight loss is proper dieting and nutrition, and it's essential that you speak with your primary care physician before undertaking any new workout routines or lifestyle changes.
This article is presented by Pegues Hurst Ford.