MEET THE 2021 MINI COOPER COUNTRYMAN
The fearless Sports Activity Vehicle® forges boldly ahead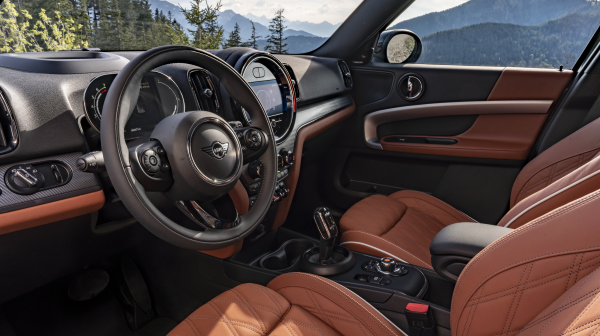 If you're heading into 2021 in need of a family vehicle that's up for just about anything, MINI has you covered. We're bringing our A-game as usual with the new and improved 2021 Countryman, making our largest and most spacious MINI even bigger and bolder when it comes to style.
The 2021 MINI Cooper Countryman remains one of the most versatile choices in our expansive lineup. Not only do you have your choice of three MINI TwinPower Turbo engines and transmissions, but you can go green with the groundbreaking MINI Cooper Countryman Plug-In Hybrid. For all your adventuring needs, the 2021 Countryman is available with ALL4 all-wheel drive, which makes it ideal for hitting the trail and going off the grid.
But you won't want to stay away from the public eye for too long, because the 2021 MINI Cooper Countryman is the most stylish it's ever been. The Countryman is the latest vehicle from MINI to pay homage to our British heritage with new LED taillights in the style of the Union Jack. Complementing this unique feature are new rear fascia and rear bumper trim, making the Countryman handsome from all angles.
Also enhancing the look of the 2021 MINI Cooper Countryman are a pair of new colors: White Silver metallic and Sage Green metallic. These and other vibrant colors pair nicely with an available Piano Black Exterior option, which enhances the athletic aspects of the SAV and looks particularly nice with available 17-inch Channel Spoke Black light alloy wheels.
Inside, the 2021 Countryman is even more dashing with a redesigned center instrument panel finished in Piano Black High Gloss, an optional digital instrument display and available Chesterfield Indigo Blue and Chesterfield Malt Brown leather upholstery. The 2021 Countryman is also offered with a svelte MINI Yours Interior Style Shaded Silver interior option that gives it a polished, modern look. And with all these fine upgrades, the new Countryman remains functional for the whole family with ample space for up to five and impressive cargo capabilities.
We made the 2021 MINI Cooper Countryman to do it all and look good doing it. With more dynamic styling and premium options, our comfiest vehicle yet is an even bigger can't-miss.
This article is presented by Cincinnati MINI.