Tips for Buffing and Waxing Your Car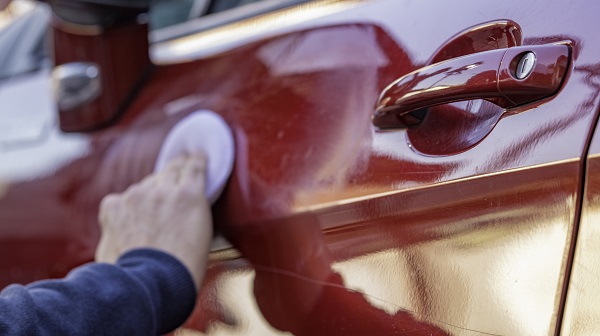 A thorough buffing and waxing can show off the finest attributes of your beloved ride. However, it's easy to make mistakes when shining up your car's exterior. To give your vehicle a head-turning shine — and avoid common pitfalls — consider these tips for buffing and waxing your car.
Preparing your car
Before you begin the buffing process, it's important to start clean. Give your vehicle a thorough wash to remove dust, debris, splattered bugs, bird droppings, and any previous coats of wax. Be sure to thoroughly clean any hidden areas, like the wheel wells and the underbody. In addition to giving you a clean slate to work with, washing your vehicle will help you inspect it for damage that needs to be buffed out.
Assess the damage
Now that your car is clean, you'll be able to assess the severity of the damage to its paint job. If there's moderate to severe scratching on your car's paint job, consider using a foam pad that's specifically designated as a swirl remover, setting it to a speed of five or six. To treat the light scratches your car receives from normal exterior wear and tear, use a combination of a foam pad and a finishing glaze, along with a speed of three to five. Choose a lower speed for lighter damage. And if your car has only light scratches, consider using a pre-wax polish and a high-quality foam pad.
When it comes to choosing a buffing polish, always choose the least-abrasive option for the level of damage you need to buff out. Choose a milder abrasive for dark-colored vehicles, since overly rough polishing compounds can scratch dark paint. Be sure to read all labels on the compound you choose, and before you begin, consider testing out your tools on a hidden part of your car or a scrap piece of metal.
Buffing techniques
Proper buffing technique ensures that your vehicle will have a smooth, lustrous sheen. First, don't rush the process — move the buffer slowly, don't linger on one spot, and allow the weight of the buffer to apply most of the pressure. Using too much pressure can damage your vehicle, and never buff your vehicle without using a polishing compound. Finally, avoid quick, jerky motions, and don't press the edges of the buffer pad to your vehicle — the edges tend to move faster and generate more friction, which can damage your car's paint job.
Choosing the right type of wax for the job
There are two primary types of automotive wax you'll find at your local auto parts store — carnauba wax and synthetic wax. Carnauba wax is beloved for its brilliant shine, but it tends to wear off quickly compared to synthetic coatings. Synthetic coatings, on the other hand, tend to cost more than their carnauba counterparts. And to keep your car looking fresh between waxes, consider picking up a spray-on wax for touch-ups after a routine car wash.
Practice proper waxing techniques
Be sure that your vehicle's exterior is totally clean and dry before you begin waxing, since water droplets can lead to a streaky finish. If you have the option, move your car to an indoor or shaded area, away from direct sunlight, since heat can cause the wax to prematurely harden, potentially leading to an uneven, messy coat. Avoid the temptation to use one thick coat of wax. Rather, you'll get better results if you apply the wax in thin layers. And once you've waxed your vehicle, give it a thorough buff with a lint-free microfiber cloth. This final step helps the wax bond to the paint and gives your car that showroom-quality shine.
Buffing and waxing your vehicle doesn't just make it look good — it also helps preserve your vehicle's value. For more tips on keeping your vehicle in pristine condition, browse online for tips on interior and exterior detailing.
This article is presented by VanDevere Auto Group.