What to Pack for a Spring Picnic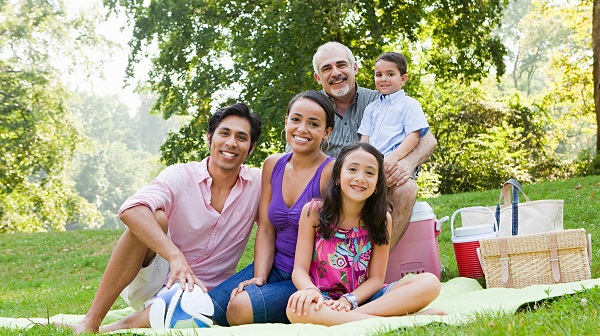 Dining in the Great Outdoors is a great way to soak up some spring sun while reconnecting with loved ones. Here are 10 things you'll want to bring on your next picnic excursion.
1. Food and drink carriers
Depending on your preference and how much food you'll need to transport, pack your picnic in a tote, basket or backpack. You'll also want to bring along a thermos or cooler for drinks. And make sure to bring a bottle opener and/or corkscrew if you're bringing any bottled beverages or some wine.
2. Blanket
If the ground is dry, feel free to pack a tablecloth or old comforter to use as a picnic blanket. However, it's a good idea to invest in a picnic blanket that has a waterproof lining on one side. That way, you and your fellow diners will stay dry and stain-free if the ground is damp.
3. Utensils and accessories
Try to prep all the food beforehand so you can avoid packing extra cooking tools like cutting boards and knives. You'll want to bring plates, utensils, napkins and cups. The materials you choose for these depend on how casual or formal you want the experience to be, as well as how eco-friendly. For convenience, plasticware and paper napkins will suit — but go with glasses, silverware and ceramic plates for a zero-waste picnic.
4. Containers and trash bags
Minimize food waste by packing plastic or glass containers to store leftovers in. Keep the picnic area tidy by bringing along a trash bag or two to clean up after the meal.
5. Games
Bring along a Frisbee or sports ball of your choice for some active play with your family, friends or partner. If the weather is windy, bring along a kite, or take some card games for a more low-key pastime.
6. Bluetooth speaker
Though each picnic has its own style, chances are that you'll want just the right music to set the mood. Pack a Bluetooth speaker and bring along a smartphone to enjoy your favorite playlists and media while you feast.
7. Lemonade
Spring and citrus flavors just go together. Follow
this easy recipe from Add a Pinch
to prepare a gallon of fresh lemonade ahead of time.
8. Fruit
Fresh fruit is an integral part of any spring picnic. Fruit salad makes a colorful side that's easy to bring. Or, if you're short on time, slice a melon of your choice beforehand and put it in a container for easy packing on the day of the picnic.
9. Sandwiches
Finger foods like sandwiches are a great option for a main dish when dining outdoors. Try this strawberry basil chickpea salad sandwich recipe from Peas and Crayons
here
. Or go with quick-to-assemble peanut butter and banana sandwiches that are sure to be a crowd-pleaser for picnickers of all ages.
10. Portable dessert
Cookies and small pies are easy to transport and travel well. For a more decadent dessert, try
these chocolate chip pretzel bars
from Food & Wine or go with a fruit-based treat like
these blueberry hand-pies
from Bon Appétit.
With a little bit of planning and prep, you're well on your way to pulling off the tasty, delightful picnic experience that you've been daydreaming about.
This article is presented by Pegues Hurst Ford.