5 Kid-Friendly Video Games with Great Multiplayer Modes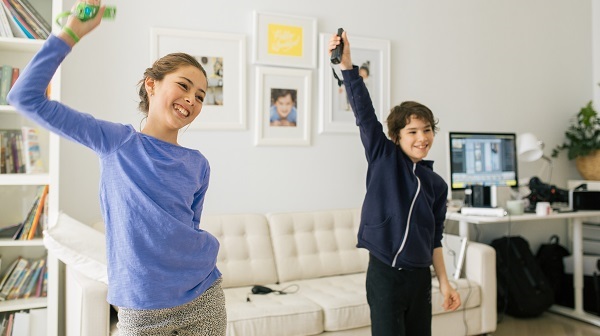 Looking to keep your little ones entertained this summer, but don't want them playing violent video games or massive multiplayer online games where they'll interact with strangers? Multiplayer PC and console games can provide plenty of fun for the whole family. Whether your youngsters enjoy spending leisure time with buddies online or family on the couch next to them, there are plenty of kid-friendly games that encourage healthy competition, creativity, and cooperative playtime with trusted friends.
"Animal Crossing: New Horizons"
The cute, charming "Animal Crossing" series is perfect for kids and grown-ups alike. This relaxing game puts the player in charge of an island full of quirky animal friends. Your kids can express themselves through designing clothes, decorating houses, and even landscaping the terrain itself. And if you've got multiple little ones, they can share a single copy of the game — it supports multiple player profiles, so each kid can build and decorate a house on the same island. In addition to that, the game supports online multiplayer, so your kids can visit their friends' territories, admire their homes, and trade goodies with them. This game is exclusively available for the Nintendo Switch.
"Minecraft"
No list of kid-friendly multiplayer games is complete without "Minecraft." In addition to offering a robust single-player survival mode, this modern classic lets kids design buildings and create worlds alongside their friends. Your youngsters can enjoy hours of cooperative, creative play, all while practicing their planning and teamwork skills. The game's LEGO-like mechanics enable kids to build anything from towering castles and giant statues to cozy cabins and soaring roller coasters. "Minecraft" is available on PC, Mac, and all major consoles. There's even a trimmed-down version that's compatible with Android and iOS mobile devices.
"Mario Kart 8 Deluxe"
Looking for fast-paced, family-friendly fun? It's hard to beat "Mario Kart 8 Deluxe," sold only for the Nintendo Switch. This cartoony go-kart racer features dozens of tracks and playable characters from a variety of Nintendo franchises. In addition to that, it offers various gameplay styles, including Battle Mode, where your kids and their friends can take a break from the racetrack and duke it out against each other. Up to four people can play at once. And since "Mario Kart 8 Deluxe" supports both local and online multiplayer, it's perfect for big and small family and friend groups alike.
"Unravel Two"
"Unravel Two" is a two-player platformer that's all about cooperation, teamwork, and communication. Each player takes control of a tiny doll that's joined to the other by a piece of yarn. They'll work together to overcome challenging puzzles and precarious obstacles as they traverse beautifully designed levels. Just keep in mind that this game only offers local co-op play, so it may not be ideal if your kids can only connect with their gaming friends online. You can find "Unravel Two" on PC and all major consoles.
"Houseparty"
Whether your kids are looking to connect with friends who live down the street or family members on the other side of the country, "Houseparty" just might be what you're looking for. This video chatting app, available for mobile devices, lets your kids play games like Pictionary and trivia challenges with their long-distance pals. And since it's easy to use, grandparents may even want to get in on the fun.
Multiplayer games can give your kids a way to connect with friends and family alike. Consider these five fun games to chase away the summer doldrums.
This article is presented by Krause Toyota.