3 Tasty Barbecue Recipes for Summer
Enjoy the balmy temperatures outside and explore new flavors when you try one or more of these crowd-pleasing barbecue recipes for your next cookout.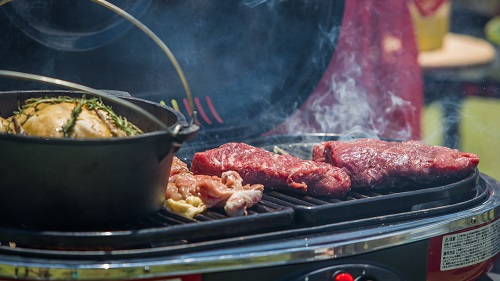 Bourbon barbecue sauce
No matter what type of meat you prefer when barbecuing, most foodies can agree that great barbecue starts with a great sauce. This recipe from Steve Raichlen with Bon Appétit, as shared on Epicurious, fuses the flavors of bourbon, hot sauce and Worcestershire sauce for a punchy take on traditional barbecue sauce.
In a large saucepan over medium heat, bring the following ingredients to a boil: 2 cups ketchup, 1/2 cup light molasses, 1/3 cup bourbon, 1/4 cup Dijon mustard, 3 tablespoons hot pepper sauce, 2 tablespoons Worcestershire sauce, 2 teaspoons paprika and 1 teaspoon each of garlic and onion powders.
Next, lower the heat and simmer uncovered for about 15 minutes or until the sauce thickens. Cover and chill until ready to use in a barbecue recipe or as a dipping sauce.
Barbecue chicken tacos
These tasty tacos are easy to make if you're looking for a low-key barbecue recipe this summer. Phoebe Lapine shares this recipe with Food & Wine magazine.
Gather the following ingredients before starting the cooking process: olive oil, sea salt, 1 pound skinless and boneless chicken thighs, 1 teaspoon each of ancho chile powder and cumin, 1/2 cup barbecue sauce, 1/4 cup mayonnaise, 2 tablespoons white-wine vinegar, 2 teaspoons honey, 4 cups finely shredded purple cabbage, eight 6-inch corn tortillas and 1/4 cup crumbled queso fresco.
Put 2 tablespoons of olive oil in a medium casserole skillet over high heat. Add the chicken and cook it approximately 2 minutes per side, so each side is browned. Add chile powder, cumin, a pinch of salt and 1 cup of water, then bring to a simmer. Cover and cook on low heat for about 1 hour, until the chicken pulls apart easily with a fork. Move the chicken to a bowl or cutting board to shred it, then put the chicken back into the skillet. Add the barbecue sauce.
In a medium bowl, whisk together vinegar, honey, mayonnaise and cabbage. Season with salt and then toss. Microwave the tortillas or heat them in the oven until warm. Serve the barbecued chicken with the slaw and queso fresco when it's time to eat.
Korean barbecue burgers
You'll need the following ingredients to make this delectable recipe from the kitchen of Bruce Weinstein with Cooking Light:
1/2 cup chopped green onions
1 1/2 tablespoons brown sugar
1 1/2 tablespoons minced and peeled fresh ginger
3 tablespoons low-sodium soy sauce
1 tablespoon dark sesame oil
1/2 teaspoon freshly ground black pepper
2 garlic cloves, minced
1 1/2 pounds ground sirloin
6 (1 1/2-ounce) whole-wheat hamburger buns, split
6 red leaf lettuce leaves
6 tablespoons thinly sliced radishes
Combine the first eight ingredients in the list, divide them into six equal portions and hand-shape them into burger patties. Grill the patties about 6 minutes per side or until the thermometer registers 160 degrees Fahrenheit, then place them on a plate and put it to the side. Lightly toast the wheat buns on the grill (cut-side down), then garnish your burgers with a lettuce leaf and 1 tablespoon of sliced radishes before serving.
Put the spicy back into summer with any of these mouth-watering barbecue recipes. You might just discover a new favorite dish.
This article is presented by Jennings Chevrolet in Glenview, IL.