Broadway Musicals You Can Watch Online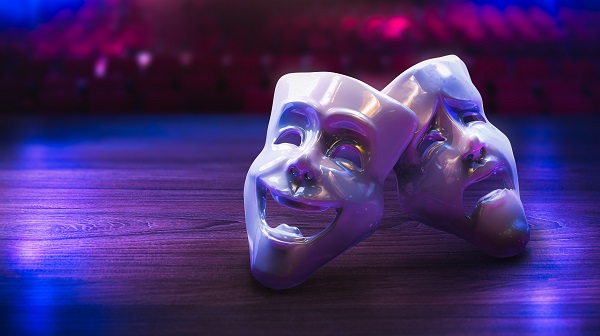 Thanks to the raw energy, pageantry, and talent on display, there's nothing like the thrill of a live Broadway performance. But if you can't make it to the theatre, check out these smash hits available on your favorite streaming services.
"Hamilton"
"Hamilton" made quite a splash when it debuted back in 2016 — and now you can relive that excitement by streaming it on Disney+. Based on the life of founding father Alexander Hamilton, this hip-hop musical rose to superstardom for its catchy tunes and inspiring true story. The filmed version of this Pulitzer Prize- and Tony Award-winning musical boasts a star-studded cast, including Tony winners Renee Elise Goldsberry and Leslie Odom Jr., along with creator Lin-Manuel Miranda.
"Rent"
Inspired by Puccini's classic opera "La Boheme," Jonathan Larson's "Rent" gives this story a modern twist by bringing it to the world of New York City's East Village. Set during the peak of the HIV/AIDS crisis, this rock musical explores the intersections of queer life, poverty, and homelessness. This proved to be a meaningful mix of themes for audiences around the world — the production racked up a quartet of Tony awards and the Pulitzer Prize for Drama. And now, you can experience this groundbreaking musical for yourself on Google Play, iTunes, Amazon Prime, YouTube, and Vudu.
"Billy Elliot the Musical"
This charming tale, brought to you by Elton John and Lee Hall, is the story of a young British boy who finds joy in ballet — despite the disapproval of his old-fashioned, small-town peers. While Billy's community may not embrace his love of song and dance, audiences and critics certainly did. This production earned a whopping 10 Tony Awards and four Olivier Awards. You can join in on the fun streaming "Billy Elliot" on iTunes, Google Play, Amazon Prime, and Vudu.
"Into the Woods"
Renowned for being one of Stephen Sondheim's most successful and beloved musicals, "Into the Woods" is perfect for both longtime fans and those who are just getting into Broadway. It features a medley of characters and situations from fairytale fables, but puts a refreshing twist on these familiar tropes. The filmed version of this classic boasts a star-studded cast including Bernadette Peters and Joanna Gleason in the role that won her a Tony award. If you'd like to give this clever musical a watch, you can stream it on BroadwayHD, iTunes, Amazon Prime,
Google Play, YouTube, and Vudu.
"Newsies"
This cult classic is the Broadway version of the 1992 Disney musical that captivated audiences with its inspiring tale of New York City newsboys organizing for fairer labor conditions. So if you loved the film, the live-theatre adaptation of "Newsies" gives you even more to enjoy — it features an expanded score by Alan Menken and Jack Feldman. This filmed production even features the majority of the Broadway show's original cast, including Andrew Keenan-Bolger, Kara Lindsay, Ben Fankhauser, Tommy Bracco, and Jeremy Jordan. You can catch it on Disney+.
Whether you're a longtime fan of musicals or you're just beginning to explore the genre, you can find popular classics and obscure gems on your favorite streaming services.
This article is presented by Avery Greene Honda.