5 Engaging Books for Asian American and Pacific Islander Heritage Month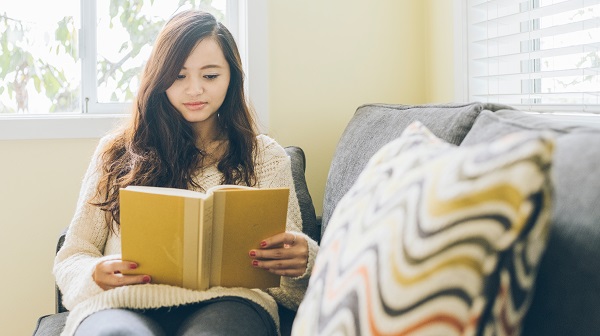 Whether you're interested in broadening your reading horizons or learning more about your own heritage, consider checking out these literary triumphs for Asian American and Pacific Islander Heritage Month.
"Girl in Translation" by Jean Kwok
In Jean Kwok's vibrant story about family, love, identity, and growth, we get to know the inner world of eleven-year-old Kimberly Chang. She's a brilliant student who lives a double life as a sweatshop worker, laboring long hours to help support her struggling family. Throughout her journey, Kimberly balances a life split between two cultures all while navigating the stresses of teenage life — like having crushes, fitting in with the crowd, and forming her own identity.
"Your House Will Pay" by Steph Cha
In this gripping novel, Steph Cha skillfully weaves a tale of two protagonists, a Korean American girl named Grace Park and a Black young man named Shawn Matthews. Despite growing up in different cultures and circumstances, both come from families fractured by violence and injustice. And when their lives collide after the police shooting death of a Black teenager, these two young people find themselves confronting deep questions about inequality, anger, guilt, and racial tensions.
"No-No Boy" by John Okada

This intense and dark — yet classic — work of Asian American literature follows the story of Ichiro Yamada. While Yamada himself is fictional, this novel explores the inner conflicts of the real-life Japanese Americans who were imprisoned at internment camps during World War II. This book's curious title refers to the nickname for detainees who answered "no" twice on a government-mandated questionnaire, which asked about service in the armed forces and unconditional loyalty to the United States. Due to his status as a "no-no boy" who was unwilling to risk his life on behalf of the government that seized his property and his imprisoned family, Yamada navigates his life in post-war Seattle while dealing with anger, guilt, and shame.
"The Best We Could Do" by Thi Bui
This award-winning graphic novel memoir by Thi Bui captures the story of her Vietnamese immigrant family working to overcome generational traumas and achieve the American dream. The book begins with the birth of Bui's child, but quickly becomes an exploration of familial history, changing family dynamics, and how our everyday lives are shaped by war, politics, and injustice.
"This Is Paradise" by Kristiana Kahakauwila
Kristiana Kahakauwila brings us a powerful series of vignettes from life on the islands of Oahu, Maui, Kauai, and Honolulu. You'll be taken on an immersive journey through the eyes of indigenous Hawaiian characters, many of whom deal with stereotypes and discrimination while searching for their roots and identity in their families' fading traditions. By exploring issues of class and racial injustice, Kahakauwila shows us the side of life in Hawaii that you won't find in tourist brochures.
Asian-American and Pacific Islander literature offers a deep and diverse selection of thought-provoking stories. Check out your local library or bookseller for even more recommendations.
This article is presented by Gold Coast Cadillac.