3 Thrilling Go-Kart Tracks in Michigan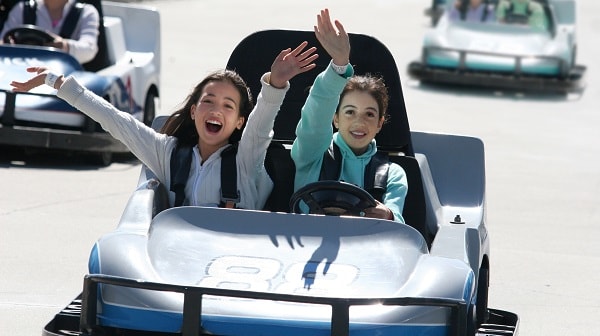 Getting behind the wheel of a go-kart to zip around corners and beat your friends to the finish line is the closest most of us can get to the thrill of a real racecar. At these three go-kart tracks in Michigan, you can get all of that excitement and even some extra perks. Be sure to check out these spots the next time you want a fun, affordable racing experience.
Grand Rapids Grand Prix
For an exhilarating racing experience in the western region of the state, head to
Grand Rapids Grand Prix
in Byron Township. Open every day except Monday, this indoor two-level track is climate controlled and features Sodi Electric Go Karts, which are known for being extremely fast and having outstanding torque and power. Each race is 6-6.5 minutes long and run every 10 minutes. Pricing ranges from $18 for a single race and up to $100 for a race package (additional details available at the track). You can also book corporate events if you and your coworkers are looking for your next happy hour spot or team-building experience. Once you're done racing, be sure to head to the
Grand Prix Grille
for a freshly made snack — the cooks pride themselves on not serving any frozen food — and an ice-cold beer.
Great American Adventures
Way up north in Petoskey, you can visit
Great American Adventures
, locally owned and operated for over 20 years. Here, you'll have the chance to race around a go-kart track and also enjoy other fun activities like mini-golf, batting cages, water wars and a driving range. When you opt for the go-karts, you can choose between the single or double, meaning you can take a spin with your best pal or a younger driver who may be a little hesitant behind the wheel. There are also smaller go-karts for the little ones who are more than ready to race. All of the go-karts are themed with Michigan sports teams and popular vehicles like the General Lee and Herbie. The Mini Karts are $6 for a race and are best for those 6-9 years old. The Full Size Kart costs $7 and is for drivers 10 years and up and 56 inches or taller. The Double Kart must be driven by someone 16 years or older and is $8.
Kart 2 Kart
With the unpredictable Michigan weather, another great indoor option for racing is
Kart 2 Kart
in Sterling Heights. Named one of the best karting facilities in Michigan by CBS Detroit, this track features six corners and a 200-foot straightaway that is perfect for high-speed racing. Kart 2 Kart has been lauded as the perfect spot for more competitive drivers, with the location offering 40-mph karts for drivers ages 16 and up with valid driver's licenses. Of course, the kids can have fun too. Kart 2 Kart offers junior karts for those ages 6-15, as well as double karts for kids under 5 years old to ride as passengers with an adult driver. Open every day at varying times, pricing sits at $17 for an eight-minute race and $10 per five-minute race for kids 8-15.
Whether you're looking for casual fun with the family or an intense competition with your best friends, Michigan is home to a variety of go-karting options. Head out and set a personal record for your lap time at any of these thrilling locations.
This article is presented by Bill Marsh.