Vehicle Profile: 2020 Audi TT Coupe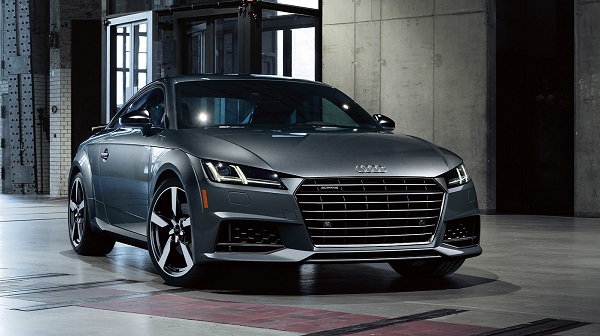 The 2020 Audi TT Coupe is a small luxury car that combines fun-to-drive attitude with a high-quality interior. It's the most affordable offering among its competitors, but you wouldn't know it from behind the wheel, where comfort and build quality are second to none. And with its defining style and alluring performance, one might look at the price tag and wonder why the TT Coupe's German and Japanese rivals are so much more expensive.
Design
The third-generation Audi TT Coupe's exterior design is squat and muscular, with crisp lines, a sharp Singleframe
®
grille and full LED lighting to boot. The distinctive style makes it hard to confuse for any other car, including other Audi models. The original TT, when it launched in the late 1990s, had a major impact on the automotive design world, and while the 2020 model is not quite as revolutionary, its adherence to its design roots is only to its advantage.
Inside, on the other hand, it's all modern. Thanks to Audi's cutting-edge Virtual Cockpit, the Audi TT's interior is both minimalist and futuristic. There are a few buttons and knobs to control the most critical systems, but the rest is otherwise clean, functional and even graceful. Abundant premium materials, 12-way adjustable front seats, and stylish air vents with integrated climate control knobs make for a very attractive and comfortable interior.
Cargo volume is 12 cubic feet, which is pretty good for a small sports car. That being said, while the TT technically seats four, it's functionally a two-seater coupe, as the rear seats are too cramped to accommodate adults. In other words, you actually get more than 12 cubic feet of space for your luggage.
Performance
The 2020 Audi TT Coupe uses a 2.0-liter TFSI
®
four-cylinder turbocharged engine that cranks out 228 horsepower and 258 lb-ft of torque. Power goes to all four wheels via the quattro
®
all-wheel-drive system, which ensures there's always enough grip to go around and enables incredible acceleration: 0-60 mph flies by in just 5.2 seconds. You can shift gears via the paddle shifters mounted on the steering wheel, though the seven-speed S tronic
®
dual-clutch automatic transmission is clever enough that you can just forget about shifting and focus on the rest of the driving experience. As long as you're in the right drive mode, the odds are good the dual-clutch will be a step ahead. The four modes include Comfort, Auto, Dynamic and Individual, and they govern not just the transmission shift times but also the throttle and steering response, making it easy to tailor your experience behind the wheel in changing conditions.
Technology
The 2020 Audi TT Coupe is offered with an impressively long list of high-tech features. Some of it is just the usual, like Apple CarPlay
®
and Android Auto™ smartphone integration. But a lot of it is not. The MMI
®
touch system, for example, lets you enter navigation destinations or contact numbers by simply writing them on the surface of the large control knob, making scrolling through clunky virtual keyboards a thing of the past. The TT Coupe is also equipped with a Wi-Fi
®
hotspot with 4G LTE connectivity as well as a phone box that simultaneously enhances reception and wirelessly charges your device. The latter is particularly convenient, as thanks to the 12-speaker, 680-watt Bang & Olufsen
®
Sound System, you'll definitely want to be making heavy use of your phone's audio streaming capabilities.
If you care about performance and quality, and don't plan to haul around more than a single passenger at a time, the 2020 Audi TT Coupe is car that's easy to love — and even more so if you have a penchant for cool interior tech.
This article is presented by Zimbrick European.