3 Flavorful and Fulfilling Vegetarian Lunch Recipes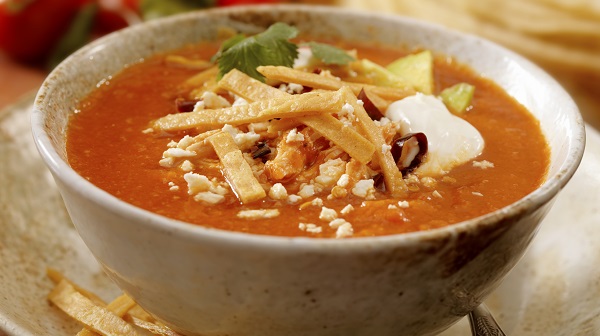 Want a healthy, meat-free lunch you can prepare quickly and is bursting with flavor? Here are three excellent recipes you need to try in 2021. You're sure to enjoy one enough to make it a regular in your monthly rotation.
Vegetarian lentil tortilla soup
A thick, hearty soup makes a wonderful meal. You can make a large pot of it and then divide it into portions to eat throughout the week. An excellent soup that is sure to satisfy your appetite is the vegetarian lentil tortilla soup that Jenn Laughlin shares on her website Peas and Crayons.
Chop up the following vegetables: 1 medium onion, 1 bell pepper, and 1 jalapeno pepper. Drain and rinse the contents of a 15-ounce can of black beans and a 15-ounce can of pinto beans. Toss all that into a slow-cooker and cover with 2.5 cups vegetable broth, a 15-ounce can of tomato sauce, 1 tablespoon tomato paste, 1 teaspoon avocado oil, 1 cup frozen corn, 3/4 cup dried red lentils, 1/2 teaspoon chili powder, 1/2 teaspoon garlic powder, 1/2 teaspoon cumin, and 1/2 teaspoon cayenne pepper.
Stir it all together and set the slow cooker to high heat for 4-6 hours or low heat for 7-8 hours. When the lentils are cooked, mix in 1/2 cup heavy cream (or a cream substitute if you want to make it vegan-friendly). When you serve the soup into a bowl, top it with crushed tortilla chips, shredded cheese (or cheese substitute), chopped red onion, sliced avocado, or other Mexican-inspired toppings.
Butternut squash risotto
Rice is another excellent meal ingredient that will fill you up and pack in plenty of flavors. If you follow Savita Verma's recipe for butternut squash risotto on her website Chef de Home, you can make 2-3 servings in a half-hour.
Warm 3 cups vegetable stock in a sauce pan on medium-low heat. In a larger, wider pan, saute 2 chopped shallot onions in 1 tablespoon butter and 2 cloves minced garlic. Once the onions are soft, add 1/2 teaspoon cumin powder and 1/4 teaspoon chili flakes. Just 30 seconds later, add 1/2 pound butternut squash cut into cubes. As the squash softens, add 1 cup Arborio rice and 1 tablespoon butter. Stir contents occasionally as rice starts toasting.
Gradually pour in the heated stock a little at a time, letting the rice absorb it. Continue this, adding around 1/3 cup of the stock at a time until the rice is tender. Mix in 1/3 cup grated, vegetarian-friendly cheese. Sprinkle a little black pepper and fresh-cut mint on top, and you have yourself a savory lunch.
Oregano halloumi with orzo salad
Few foods fill you up as quickly as pasta does, so this recipe for oregano halloumi with orzo salad from BBC Good Food writer Chelsie Collins is a hearty lunchtime option packed with flavor.
Cook 12 ounces of orzo in salted water in a large pan according to package instructions. While it boils, chop 1 tablespoon fresh oregano leaves and stir the pieces in a bowl with 3 tablespoon olive oil, which you'll brush over 9 ounces sliced halloumi cheese. Heat a different pan on the oven in which you'll heat the halloumi, letting it sizzle on either side until it's golden.
Return to the cooked orzo. Drain it and mix the pasta with a package of halved cherry tomatoes, a handful of chopped black olives, and a 5-ounce jar of pesto. Top the pasta with the heated halloumi and drizzle remaining oregano oil atop.
Making a delicious, healthy lunch isn't as difficult as it may seem. Following recipes like these, you can bring some flavor to your mid-day meal and make plenty of leftovers you'll look forward to rewarming.
This article is presented by Oliver Ford Lincoln.