Adoptable Pets of the Month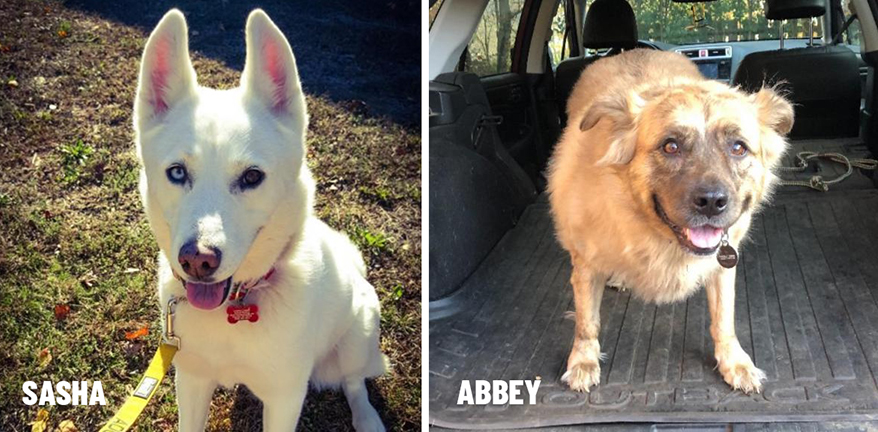 Meet Abbey (pictured in the back of her foster mom's Outback!), one of our featured Adoptable Pets for January.
Abbey has been with us since May 2019, patiently awaiting a home to finally call her own. This plump little princess is laid back, mature and house-trained; yet, still does the senior happy dance every time the leash comes out. She is very much a people-dog, but doesn't love being around other dogs or tiny humans very much. She also doesn't seem to love the green beans her foster mom is adding to her food so she can be a bit more slender. What she does love is cruising around in the car with the windows down showing off her golden locks of hair, binge-watching her favorite series Downton Abbey on Amazon with her foster mom on a rainy day, and taking long, warm bubble baths. Like many senior dogs who have lived most of their lives in a home, Abbey had a hard time adjusting to being in a shelter so she is currently staying with one of our Adoption Ambassadors. Our goal is to make sure Abbey doesn't have to spend another day at the shelter, so if you are interested in meeting her and possibly giving her that precious gift please contact Natasha at
natashakush@hotmail.com
, or call/text her at (828) 215-1367. For more information on the Prestige Adoptable Pets of the Month, please visit
here
.
Meet Sasha, our other featured Adoptable Pet for January.
Sasha loves her humans; big or small, she loves 'em all. She's a frisky, fabulous furball and is looking for a home that can provide a good outlet for her energy. She's a smart cookie and can get out of fences, so her new home will have to be aware and make proper accommodations. She would love an active family that hikes, bikes, or runs so that she can join along. She isn't fond of cats, and is picky about her dog friends, so a home where she is the only pet is recommended. Sasha's adoption fee is $150.00 and she is currently located at Charlie's Angels on our Dog Floor. We encourage you to come out and meet Sasha. For more information on the Prestige Adoptable Pets of the Month, please visit
here
.