Vehicle Profile: 2020 Lexus RC F
The Lexus RC F luxury sports car gets lighter, faster, better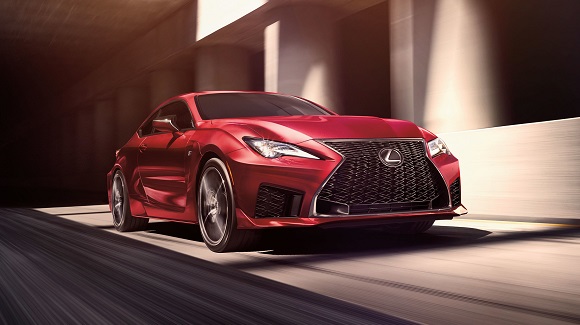 The Lexus RC F is a track-focused sports car that redefines the marriage of luxury and performance. Historically, its major weakness was its weight, but for 2020 Lexus managed to shed 55 pounds while increasing power, giving it a snappier launch off the line and more responsive handling. Even better, it now comes with a new Track Edition that takes its performance to new heights.
Naturally aspirated
Even as more and more automakers turn to turbocharging technology, there's something to be said for the simplicity and directness of a naturally-aspirated engine. The 2020 Lexus RC F uses the same trusted 5.0-liter V8 the car has used since its launch in 2014, but this time it generates 472 horsepower and 395 lb-ft of torque, providing instant responsiveness throughout the power band. An advanced eight-speed Sport Direct-Shift transmission ensures that power is cleanly delivered to the rear wheels, as the V8 makes a satisfying, throaty sound that turns into a scream the closer it gets to its 7,300 rpm limit.
Comfort and technology
Though you'll want to spend most of your time in the 2020 Lexus RC F setting fast laps at the local race track, the car's interior comfort and technology won't leave you wanting the rest of the time either. Dual-zone climate control, heated and ventilated leather seats, a power moonroof and a heated steering wheel are just some of the amenities offered in the RC F. That's not to mention the beautifully stitched interior or the countless connectivity technologies offered via Lexus Enform. Access to numerous apps, Amazon Alexa, a Wi-Fi hotspot for up to five passengers and smartphone- or smartwatch-enabled remote features are all standard, while cool optional features include Dynamic Voice Command and a 17-speaker, 835-watt Mark Levinson
®
Premium Surround Sound Audio System.
Track Edition
The Lexus RC F Track Edition is new for 2020 and adds a significant number of features to the car while shaving weight by another 125 pounds, courtesy of carbon-ceramic brakes, a titanium exhaust system, lightweight wheels and carbon fiber taking the place of metal on the roof, hood and even the partition between the rear seats and the trunk. It also boasts a GT3-inspired carbon fiber rear wing, helping improve rear grip and contributing to a 0-60 mph acceleration time of just 3.96 seconds.
With its throaty, naturally-aspirated V8 engine, the 2020 Lexus RC F offers honest-to-goodness, traditionally sportiness, but without missing out on any of the features you'd expect from a modern, high-end luxury automobile.
This article is presented by Lexus of Las Vegas.