Vehicle Details: 2019 Lexus GX Safety
An uncompromised approach to safety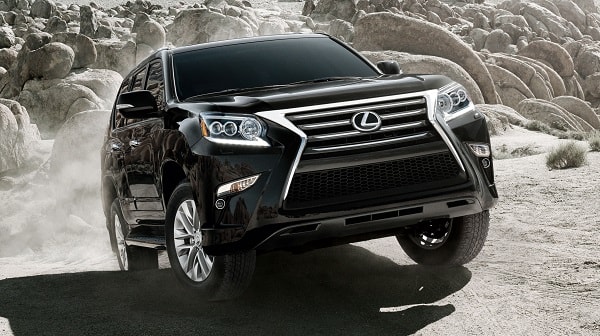 The 2019 Lexus GX is a full-size luxury SUV whose advanced features enhance not just comfort, convenience and engine performance, but safety in all situations. The GX is equipped with a veritable arsenal of passive and active safety features that will bring you peace of mind on every trip.
10-airbag system
With three rows of seats, the 2019 Lexus GX has up to seven passengers it needs to protect in the event of a collision. It achieves this goal through an advanced 10-airbag system, which includes front, side and knee airbags. The front passenger airbag is split into two chambers to help provide further protection in the event of a severe frontal collision. The GX also features seats equipped with active front headrests that help reduce whiplash, an anti-lock braking system that improves braking performance while steering and in panic-stop scenarios, and a full-time four-wheel-drive system with traction control that provides enhanced traction in poor driving conditions.
Active technologies
The 2019 Lexus GX is equipped with numerous active safety technologies that improve your awareness behind the wheel. For example, Lane Departure Alert uses a high-resolution camera to detect lane markings; if you begin to unintentionally drift outside of your lane, it will warn you with audio and visual warnings, as well as with steering wheel vibrations. Blind Spot Monitor with Rear Cross-Traffic Alert notifies you of other vehicles in your blind spot, as well as vehicles about to cross your path when reversing. Pre-Collision System with Driver Attention Monitor is arguably the Lexus GX's best feature: It can detect if a frontal collision is imminent and if you are looking away from the road. The system then primes the brakes for enhanced stopping power, and should you fail to respond its warnings, the system can even apply the brakes on its own.
Driver assistance
Safety automatically increases when you don't have to split your attention between a hundred different demands. The 2019 Lexus GX comes with a number of features designed to assist you in specific situations so that you can focus on what matters. Such features include High-Speed Dynamic Radar Cruise Control, which automatically maintains a preset distance to the cars ahead; Intuitive Parking Assist, which uses bumper-mounted sensors to notify you when objects are near; Downhill Assist Control, which maintains a slow descent speed in tricky downhill conditions so all you have to do is steer; and Crawl Control, which does essentially the same thing except while crawling over challenging terrain.
The GX could probably get by on sheer size alone, but when it comes to safety Lexus is clearly committed to an uncompromised approach. With its multitude of airbags, assistive technologies and clever features, the 2019 Lexus GX not only protects you from harm in a collision, it also reduces the odds that it will need to protect you in the first place.
This article is presented by Lexus of Las Vegas.