Vehicle Preview: 2020 Hyundai Venue
An affordable and stylish addition to the Hyundai crossover family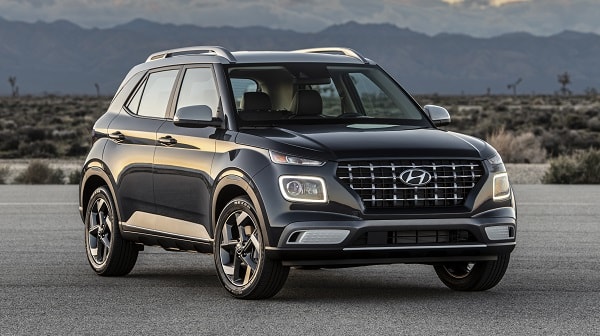 Hyundai has made good on its promise to expand its SUV offerings. On the heels of the Kona, NEXO and Palisade, the automaker is releasing its fourth brand-new SUV in its current lineup expansion: the Venue.
Small size and price
The seventh SUV in the Hyundai lineup, the Venue will be the smallest of the family, even smaller than the compact Kona. The Venue will be the budget-friendly SUV option from Hyundai, making it the lowest-priced crossover in the lineup. That doesn't mean it won't come with the many features drivers desire. "The all-new Venue might be small in size, but it's big on practicality and personality," said Mike O'Brien, vice president of Product, Corporate and Digital Planning for Hyundai Motor America.
Big on value
The Venue prioritizes value in its price tag and its efficient powertrain. Under the hood is a 1.6-liter engine regulated by either a six-speed manual transmission or Smartstream Intelligent Variable Transmission. Hyundai has redesigned its Smartstream Gamma engine to make it more efficient, so initial manufacturer estimates are that the Venue will average 33 mpg in combined city/highway driving.
Abundance of technologies
Step into the driver's seat of the 2020 Venue and you'll be surrounded by attractive, intuitive technology. The infotainment system utilizes an 8-inch touchscreen outfitted with Apple CarPlay
®
and Android Auto™ integration, allowing you to access your phone's apps through the Venue. For additional fees, you can employ navigation and Blue Link
®
services to make communicating and route-finding easier. The Venue carries the safety tools you expect on a new SUV from Hyundai, including Forward Collision-Avoidance Assist, Lane Keeping Assist, Blind-Spot Collision Warning, Driver Attention Warning and Rear Collision Cross-Traffic Warning.
Confident style
The Venue bears a compact body with sharp angles and rigid character lines — even down to its cube-shaped headlamps. That doesn't mean this SUV is a square, though. It comes in a host of youthful color options, like Steller Silver, Galactic Gray, Scarlet Red, Intense Blue, Green Apple and Denim.
Backed by the brand's generous 10-year/100,000-mile powertrain warranty, the 2020 Hyundai Venue is a great option for buyers who want to get into the increasingly popular crossover craze.
This article is presented by Liberty Hyundai.