Two Volvo Models Named to 2021 Autotrader Best Electric Cars List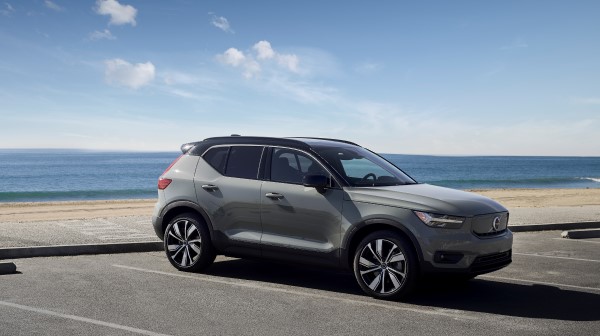 Autotrader recently named two Volvo models to its top-ten list of the Best Electric Cars for 2021. The Volvo XC60 Recharge Plug-in Hybrid and the fully electric Volvo XC40 Recharge earned recognition for their stylish Scandinavian design, long-distance driving range, and impressive safety ratings.
About the Autotrader Best Electric Cars List
With EVs rapidly gaining ground in the market, it can be tricky for drivers to find a model that meets both their wants and needs. That's why Autotrader's Best Electric Cars List is all about helping drivers find vehicles that are eco-friendly and efficient while also being practical, convenient, and high-tech.
To win a spot on Autotrader's prestigious list of the best electric cars of the year, a vehicle has to meet several standards. First off, it needs to be accessible to the average driver — so it can't cost more than $75,000. Second, it needs to have a charging plug, so traditional hybrids don't qualify for the list. Third, it must boast enough range to travel more than 15 miles purely on electricity, and finally, it needs to be available for purchase in the next six months.
The Volvo XC40 Recharge and the Volvo XC60 Recharge Plug-in Hybrid didn't just meet those criteria, they earned high marks thanks to their innovative features and high-quality engineering.
Get to know the Volvo XC40 Recharge
When it came to summing up the Volvo XC40 Recharge, Autotrader applauded the subcompact SUV's "high-quality interior materials and head-turning style." The judges appreciated its 200-mile range,* noting that it was ideal for drivers who commute. And on top of that, the XC40's route-planning feature won praise for its automatic charging station locator.
The XC40 Recharge boasts plenty of other standout features, including its innovative Android
™
Automotive OS infotainment system, which provides access to over-the-air software updates and a host of apps. On the inside, this sporty SUV offers up to 47.4 cubic feet of cargo room, along with organizational features like a front trunk, a tunnel-shaped center console with wireless smartphone charging capabilities, and practical touches like a trash bin and tissue holder.
Meet the Volvo XC60 Recharge Plug-in Hybrid
The Autotrader judges appreciated that the Volvo XC60 Recharge Plug-in Hybrid doesn't compromise on efficiency or practicality. They paid special attention to its EPA-estimated 57 combined MPGe, along with its 19 miles of all-electric driving range,** and electric all-wheel drive. But it didn't just earn a spot on the list due to its efficiency — the judges also celebrated the fact that it was stylish and remarkably fun to drive.
Its other family-friendly features include 63.6 cubic feet of cargo space, standard smartphone connectivity, a 10-speaker sound system, and available heated seats. But it doesn't compromise style for comfort — the XC60 Recharge sports the stunning Scandinavian design that you've come to expect from Volvo. On the outside, it boasts sleekly sculpted side panels and Thor's Hammer signature headlamps, while its interior comes standard with leather upholstery and Swedish crystal accents, handmade by the skilled glass artisans at Orrefors
®
.
If you've been thinking about making the switch and upgrading to an EV, now is the time. Come test-drive our innovative models, like the Volvo XC40 Recharge and the XC60 Recharge Plug-in Hybrid, to find the perfect fit for your lifestyle.
*Preliminary estimates based on European testing. Subject to change pending EPA testing and certification.

**For more information, please visit the official US government source for all fuel economy at www.fueleconomy.gov
This article is presented by Stadel Volvo.