Vehicle Profile: 2020 Subaru BRZ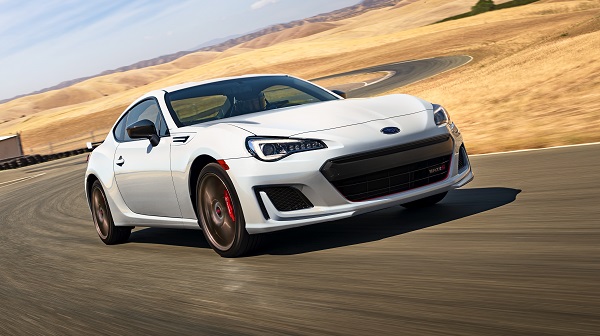 If you love to drive, you might agree that few things in life are more enjoyable than getting behind the wheel of a two-door, rear-wheel-drive sports coupe. And if you're on a budget, you'll find that only four cars meet those characteristics while offering a starting price under $30,000: the Subaru BRZ, Toyota 86, Mazda MX-5 and FIAT 124 Spider. But in truth, the 86 is a derivative of the BRZ and the 124 Spider is a derivative of the MX-5, so your options when shopping for an entry-level RWD sports coupe essentially boil down to two cars — for serious drivers, the BRZ has always been the obvious choice.
Serious design
It only takes a single glance at the 2020 Subaru BRZ to know the car means business. Its aggressive front bumper and grille combination make the front end look almost as though it is snarling. Combine that with menacing LED headlights, muscular rear haunches and low-slung profile and it becomes clear to anyone happening to look at the car that it's all about one thing and one thing only: speed. The LED lighting, standard twin tailpipes and multi-spoke wheels nonetheless impart some degree of class, reassuring passersby that even if you prefer to drive on the limit, you can still be civil sometimes. On the 2020 BRZ tS, you also get bronze-finished 18-inch wheels and a large carbon-fiber rear spoiler; and while the latter is mostly visual, it does give other drivers something nice to look at when you pass them.
BOXER® engine performance
What truly sets the 2020 Subaru BRZ apart from its rivals is its BOXER
®
engine. So called for the horizontally-opposed configuration of its four cylinders, this 2.0-liter engine is flatter and sits lower in the engine bay than traditional inline or V engines, resulting in fewer vibrations and a lower center of gravity, which significantly improves handling and reduces body roll. The engine produces 200 horsepower and 151 lb-ft of torque, ample amounts for a car as light as the BRZ. If you opt for the six-speed manual as any true enthusiast should, you're rewarded with five more horsepower and five more pound-feet of torque. Rear-wheel-drive means it's easier to get the car sideways, and if you opt for the tS model — tuned by STI — you get an enhanced sport suspension, Brembo
®
performance brakes and a few reinforced components for increased stiffness.
Interior features
It might be designed to go sideways on the track, but none of the efforts Subaru invested in making the BRZ fun to drive have compromised the car's interior quality, comfort and convenience. Clad in Alcantara
®
and real leather, the BRZ's interior makes you feel good about getting in even before you push the ignition button. At the center of the dashboard is an easy-to-use STARLINK
®
infotainment system with a 6.2-inch touch-screen display, which comes standard with Bluetooth
®
connectivity, dual USB ports, Apple CarPlay
®
and Android Auto
™
smartphone integration, a rearview camera and a voice-activated eight-speaker sound system. Heated front seats and dual-zone climate control further enhance comfort, and on the tS model, red-accented upholstery, contrast stitching and seatbelts give the BRZ an even sportier feel.
The 2020 Subaru BRZ is an affordable, RWD sports coupe you can drive every day. Even if you're inexplicably not in love with the exterior or the interior, the joy of driving the BRZ will keep you coming back for more.
This article is presented by Prestige Subaru.