4 Dessert Destinations in Michigan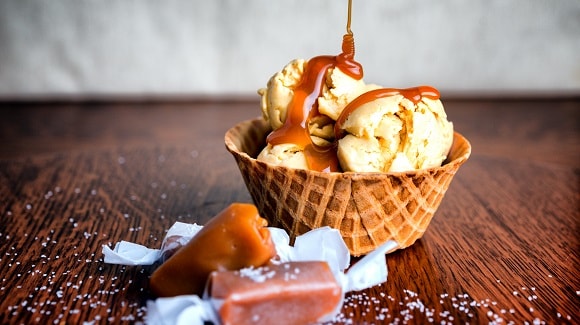 Unbridled natural beauty makes Michigan a must-visit for outdoor adventurers everywhere. But the rugged state also has a sweet side that indoor and outdoor enthusiasts of all ages can appreciate. Indulge in Michigan's handcrafted treats, sugary goodness and perfect pastries at the following sweet shops and dessert destinations.
Murdick's Fudge
Since 1887,
Murdick's Fudge
has been selling rich, delectable fudge, and during its long history has become a source of pride and joy for the great state of Michigan. Now with multiple locations across Mackinac Island and in Mackinaw City, St. Ignace and Martha's Vineyard, the sweet shop continues to be a must-visit destination. The fudge recipe Sara Murdick concocted when the shop opened is still used today, as is the way the fudge was originally made, instilling in each bite a sense of history and deliciousness. The shop's signature handcrafted fudge is a perfect blend of all-natural ingredients and comes in a multitude of flavors including butter pecan, chocolate cherry, chocolate walnut, chocolate macadamia nut, double chocolate caramel sea salt, triple chocolate espresso and Traverse City Cherry.
Grand Traverse Pie Company
Michigan's sweetest crops — cherries, raspberries, peaches, blueberries and apples — are deliciously celebrated between layers of light, flaky dough at the
Grand Traverse Pie Company
. Started in 1996 by Mike and Denise Busley, the Grand Traverse Pie Company has spread to 15 locations in two states. The list of pie options seems endless and boasts unforgettable flavors such as key lime, banana cream, strawberry rhubarb, peach strawberry, blueberry, cherry ganache and blueberry lemon silk. Although pies are the company's claim to fame, the talented bakers also offer treats such as freshly baked muffins in a variety of flavors, peanut butter cups, apple dumplings, gourmet cheesecake, cinnamon rolls, sweet breads and brownies.
Cheat Treats Café, The Protein Dessert Co.
The tasty creations at
Cheat Treats Café, The Protein Dessert Co.
, in Dearborn, boast macro-friendly protein desserts, designed to help customers indulge in a sweet treat sans the heavy dose of guilt. Refined sugar is replaced by Stevia leaf extract in the famous milkshakes while the flavorful doughnuts deliver only 1 gram of sugar (minus the glaze) and 10 grams of protein. The protein cheesecake is still delicious without butter or refined sugar. Plus, each slice offers 19 grams of protein. Cookie-lovers have a lot to choose from with protein cookies, edible cookie dough and vegan cookies on the menu. Also on the menu are vegan and gluten-free cakes.
Michigan Creamery
For the smoothest ice cream confections, head to the University of Michigan's Central Campus in Ann Arbor and get in line at the
Michigan Creamery
, which features only Michigan-made treats and Michigan-sourced ingredients. In addition to ice cream and ice cream cakes, the family-owned shop offers sorbet, frozen yogurt and custard creations. Coffee-lovers will eagerly spend time at the full espresso bar for signature caffeinated beverages. Gourmet chocolates crafted at the Alpine Chocolat Haus in Gaylord, Michigan, are also available at the Michigan Creamery.
These dessert destinations in Michigan have all that you need for an unforgettable treat and a sweet reminder why the state is a great place to be.
This article is presented by Bill Marsh.