Designing an All-Electric Lexus
What could a possible future electric Lexus look like?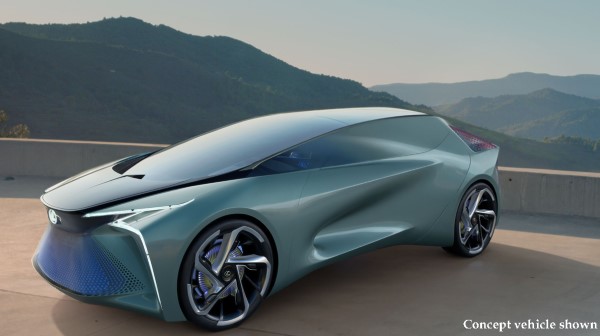 If you're a veteran Lexus driver, then chances are you've seen your share of automotive technology leaps. After all, if you started driving your first Lexus in, say, the early 2000s, you've had a front-row seat to some amazing Lexus features over the years, from hybrid technology to Amazon Alexa[1] compatibility.
With that said, it's exciting to contemplate what your future Lexus models might look like in the next five to fifteen years, especially if you have the potential option to choose an all-electric model from the Lexus family.
And as an all-electric Lexus vehicle wouldn't require several conventional-engine components that currently influence vehicle design, some intriguing questions come to mind. For example, what could a premium Lexus look like when it doesn't require an ample front end to house a gas engine? What happens to a front grille design if air is no longer needed to help cool an engine system? And how can a premium all-electric Lexus potentially make your driving experience even more thrilling?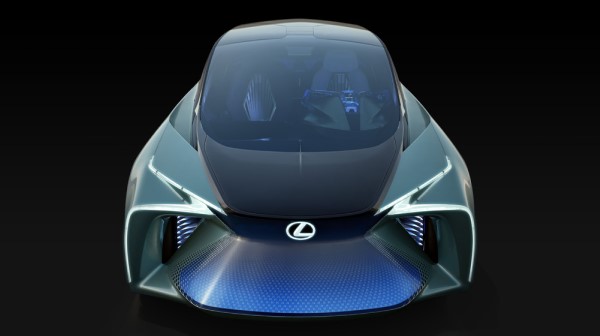 Koichi Suga, Lexus' General Manager, Design Division, has been actively contemplating these questions, especially as the Lexus Electrification project continues to offer windows into your potential future Lexus-driving experience. Haven't heard of the Lexus Electrification project? It's essentially Lexus' deep exploration into harnessing an electric vehicle's e-power to amplify the sheer exhilaration of driving.
These efforts are notably showcased via the
Lexus LF-30 Electrified concept vehicle
and the recent unveiling of the
Lexus DIRECT4 drive system
, which harnesses power from electric motors and then uses it to continually—and optimally—channel it to each wheel based on driving intentions and road conditions.
Suga points out that increased electrification developments could allow Lexus "to create something new with our designs, something never seen before," especially as Lexus electrified systems, like DIRECT4, have the potential to allow a Lexus vehicle to handle with even more responsive precision. And it's this potential for improved performance and handling that could influence intriguing new looks for all-electric Lexus models.
"Gaining inspiration from Lexus driving for a unique modeling expression is exactly what I'm working on with my team now," Suga explains, adding that the potentially improved vehicle movements made possible by electrified systems like DIRECT4 is something Lexus may visually express in new exterior shapes.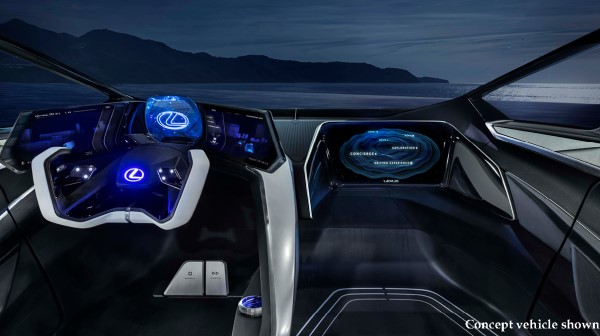 He's also looking at new ways Lexus electric vehicle designs could visually convey a model's advanced engineering technology—even when an all-electric vehicle's sophisticated components aren't visible.
Consider the front-end grille on a conventional-engine Lexus: Lexus designers took this necessary element for cooling a gas engine and transformed it into the striking signature spindle grille designs that currently define Lexus front ends.
"But with electrification," says Suga, "the engine-cooling radiator is eliminated because there is no engine. So making something new with our designs, something never seen before…I think it's a chance to express our unique designs."
Fortunately for curious Lexus drivers, these approaches can already be seen on the LF-30 Electrified concept's futuristic form, which communicates technological innovation. And
agility
is communicated via the exterior's shorter body and low profile, thanks to an aerodynamic blending of the hoodless front section with the windshield. Plus, the front end continues Lexus' striking spindle grille pattern, but it's now a purely aesthetic experience that can flexibly wrap around the front end.
And as for a Lexus driver's future electric vehicle interior experience? Lexus designers have also been thinking about how an all-electric vehicle's interior could help you feel closely connected to a Lexus EV model (with even more convenience), as evidenced by the LF-30 Electrified concept's reimagined cabin with next-generation interfaces, such as gesture-controlled features.
"I think there's a lot to look forward to," says Suga.
By Brian Gill
Legal Disclaimers
[1] Amazon, Alexa, and all related logos are trademarks of Amazon.com, Inc. or its affiliates. Not all Amazon Alexa functionality is available for in-vehicle use.