Vehicle Preview: 2020 Mercedes-Benz GLC SUV
Get ready for the updated 2020 Mercedes-Benz GLC SUV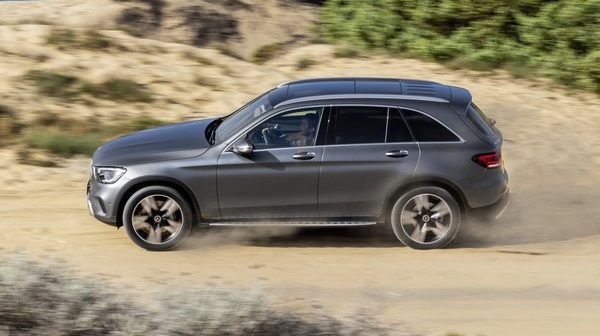 The 2020 Mercedes-Benz GLC SUV, like the models that came before it, is a stylish premium compact crossover that serves as a great entry point into the luxury brand. But the 2020 GLC SUV is even better than the models that came before, with greater power, more tech and a redesigned front end that will all be sure to thrill when it launches later this year.
Design
The 2020 Mercedes-Benz GLC SUV is nothing short of stunning, boasting extreme attention to detail everywhere you look. It's as though every feature has another sub-feature to enjoy. For instance, the anodized roof rails have a silver-shadow finish; the brushed aluminum running boards have grippy rubber studs; and the multi-spoke 20-inch wheels have black inlays. For the 2020 model year, the premium crossover also gets a revised front end with a new grille and smaller but more stylish LED headlamps. Inside, craftsmanship and design are second to none, with beautifully designed Nappa leather upholstery taking center stage with its diamond-pattern stitching. Contrast seat and door inserts, along with Natural Grain Black Ash or Burl Walnut wood trim, meanwhile, provide a high-quality backdrop.
Performance
Though the 2020 Mercedes-Benz GLC SUV continues to use a turbocharged, 2.0-liter four-cylinder engine, this time it makes 255 horsepower and 273 lb-ft of torque, up 14 horsepower from the 2019 model. The automaker says that fuel economy will be even better despite the uptick in power. The engine is paired with a 9G-TRONIC nine-speed automatic transmission, combining fast shifting action with smooth power delivery. You can have the 2020 GLC SUV with rear-wheel drive or 4MATIC
®
all-wheel drive depending on whether you prefer, in the former case, improved cornering agility, or in the latter case, enhanced traction in inclement weather.
Features and technology
New for the 2020 Mercedes-Benz GLC SUV is a 10.25-inch touch-screen display that will be standard across the range along with Apple CarPlay
®
and Android Auto™ smartphone compatibility. It will also feature the latest Mercedes-Benz voice recognition and digital assistant technology. Just say "Hey Mercedes" and the SUV will listen to your commands. You can upgrade the display to a 12.3-inch unit with an even more sophisticated version of the assistant and a number of active safety technologies. The 2020 GLC SUV also offers heated and ventilated front seats, heated rear seats and 64-color ambient cabin lighting for enhanced comfort.
Though not officially priced yet, the 2020 Mercedes-Benz GTC SUV will go on sale in the U.S. near the end of 2019. For couples or families seeking premium automotive comfort, technology and capability, it should be worth the wait.
This article is presented by Autohaus on Edens.